Ed Oliver is an unblockable force for the University of Houston. Teams fear No. 10.
Tom Herman and his University of Houston football team are making national waves — — with a big assist from Ed Oliver.
Greg Ward and the University of Houston are a dominant combination.
If Tom Herman really does end up taking his talents to Austin (or anywhere else) after one of the more remarkable two-year runs in college football history, the University of Houston needs to secure a pledge that he won't try to bring Ed Oliver with him. After sincerely thanking Herman — and wishing him well — of course.
For Oliver can be a program changer for Houston no matter what ends up happening with Herman. That became unmistakably clear after Oliver completely shredded No. 3 Louisville's offensive gameplan and scarred the best player in college for life in the highest-rated Thursday night college football game of the season. On the day after, presumed Heisman Trophy winner Lamar Jackson must be wondering if he even wants to play in the NFL if it's full of super humans like Oliver.
Fortunately for Jackson, UH's 6-foot-2, 290-pound blend of power and speed qualifies as a freak even by professional football standards. You're not running into two of these guys.
Oliver should be a Heisman Trophy candidate next season — that's right, a defensive tackle Heisman candidate. He's that dominant, that otherworldly. Oliver racked up two sacks, three tackles for losses, two passes batted down, one forced fumble and countless pockets destroyed in the Cougars' shockingly easy 36-10 takedown of another top three team. He played one of the best games you'll see in college football all season — before injuring his right knee and missing the tail end of the game (Herman says he expects Oliver to be able to keep playing this season with a knee brace).
This is a force that can change a program. In some ways, Oliver is even more valuable than Herman. And Herman's done a better job the last two seasons than even the much more fawned over Jim Harbaugh (Harbaugh, with his zany ways and satellite camp tours is much more interested in self promotion than Houston's coach). Oliver is the five-star recruit who's showing that you don't have to be an underdog to excel at the University of Houston.
Oliver should be a Heisman Trophy candidate next season — that's right, a defensive tackle Heisman candidate. He's that dominant, that otherworldly.
For the first time really, this is a place where one of the best high school players in the country can look to — and see someone like himself. Ed Oliver is the blueprint. Sure, Oliver probably ends up flipping to LSU as a hot high school recruit if Herman's not at UH, winning big and blowing up his phone with sweet H-Town Takeover visions. But now that Oliver is here, Houston administrators have to make sure he doesn't leave even if Tom Herman does.
The complete nightmare scenario isn't Herman leaving. No, the true nightmare scenario is Herman leaving and Oliver deciding to follow him (and save wear and tear on his body and future NFL career by sitting out that transfer year) for one more season or two of big-time Herman football glory.
Yes, it's all hypothetical right now. But the notion that Herman's gone (which everyone and their mother writes about every week as near fact) is also completely hypothetical at the moment. Big-time college sports administrators prove their worth by preparing for hypotheticals.
"I told our guys," American Athletic Conference commissioner Mike Aresco says about the reality of his conference losing coaches like Herman to Big Five programs, "that if you don't keep them, just keep hiring good ones. That's the key."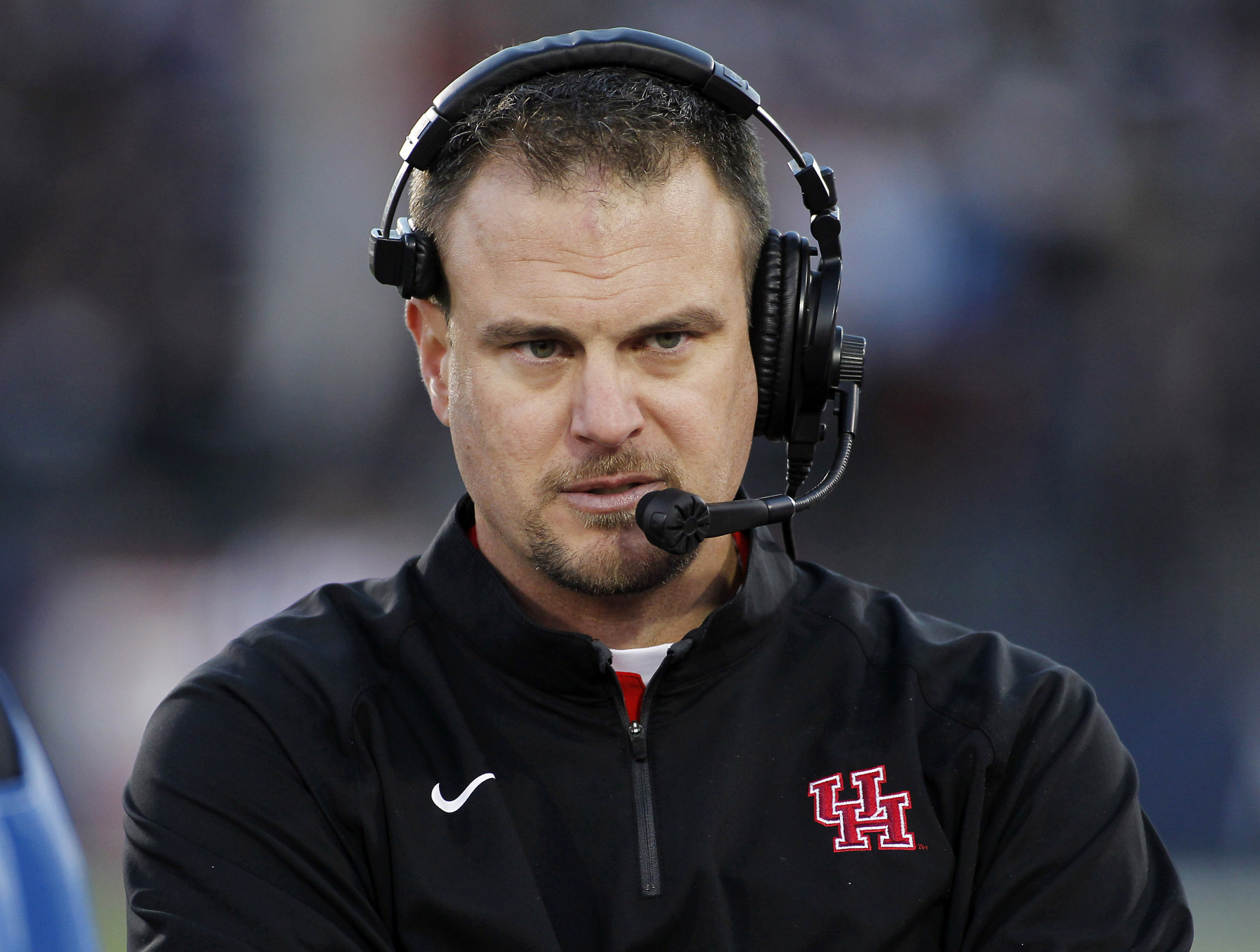 Aresco admits that the AAC will "probably lose four or five" of the hot coaching candidates it has leading its programs right now. There is no candidate hotter than Herman, who rebuked those always absurd "Is the Luster Off Tom Herman" stories by moving to 4-0 against Top 10 teams and 6-0 against Top 25 teams at UH.
Herman is one case. Ed Oliver is another — an immensely important one for the future of Houston's program. Spend even just a little time around Oliver and it's easy to see why other high school football stars would love to come play with him. This is one charismatic 18-year-old.
When UH's buttoned-up quarterback Greg Ward Jr. joins Oliver in the interview room Thursday night with the clock approaching midnight, Oliver immediately starts kidding the senior leader. "I don't know why you're not smiling," Oliver says to Ward. "Smile."
Even Ward — who wouldn't need Bill Belichick media training if he ever got drafted by the Patriots — breaks into a grin at that one. Oliver does not just make the teammates around him better on the field (UH's crazy 11-sack game against Louisville started with Oliver's push up the middle). He makes the game more fun, too.
When Oliver is asked what the best moment of his unbelievable freshman season has been, he does not mention the season-opening upset of Oklahoma at NRG or the complete domination of No. 3 Louisville. Instead, he cites the end of two-a-days. Because he knew the drudgery was over — and the games were coming.
"The end of two-a-days," Oliver says with a near whistle. "That was a light at the end of the tunnel type deal."
This is a guy who comes into the interview room munching on a cookie — and when someone asks him to describe Houston's defensive gameplan he simply shoots back, "Ferocious" after a slight dramatic pause.
Before every drive, Oliver barked at the defense, his defense already, telling them that every time they step on the field "it's a business trip." "We handled bizness," he expounds. "Those are our resumes."
Who wouldn't love to play with this guy? Oliver can be a drawing card for future five-star recruits.
The joke is that Oliver is an alien with strange powers. But in truth, its his humanness that makes him so appealing. Growing up in Michigan, I interviewed Magic Johnson numerous times — once spending several days with him. Ed Oliver has a little bit of that Magic charisma. Other stars will want to be around him.
Herman's Realm
After the University of Houston's largest home crowd in 25 years stormed the field, enveloping the Cougar players in a loving, selfie-snapping swarm of red, Herman tried to shift all the credit for his team's brilliant gamplans to offensive coordinator Major Applewhite and defensive coordinator Todd Orlando. That's what Herman does — he tries to make it about others even if the media usually only wants to write, talk and speculate about him.
Houston fueled one scoring drive with a fake punt — and long completion from a 27-year-old Australian who used to be an ice cream salesman (UH punter Dane Roy), The Cougars scored another touchdown on a wide receiver pass — Ward laterals to receiver Linell Bonner who flings a pass to a wide-open receiver Chance Allen for a 31-0 lead.
Tom Herman was coaching circles around Bobby Petrino with a shocked national TV audience watching. This wasn't a clinic. It was more like watching a Harry Potter wizard at work. You will be stunned. Now close your mouth, please.
The complete nightmare scenario isn't Herman leaving. No, the true nightmare scenario is Herman leaving and Oliver deciding to follow him
Still, Herman is right — Orlando and Applewhite both deserve major credit. Both are potential head coaches in waiting. Again, hypotheticals matter in the reality of an ever-changing college football landscape.
Especially when a once-in-a-generation star such as Ed Oliver is in play. One who can derail the most on-time and fearsome of trains.
Louisville's traveling road show is an impressive operation — with few details overlooked. There are rock stars who travel with less panache. Even the Cardinals' sports information staff works with a clocklike efficiency. One staffer briskly passed out mini Lamar Jackson flip books to every media member in the press box.
The books carried the title, "A Storybook Season." Someone forgot to tell the Cougars they couldn't get in the way. For Oliver and the Coogs completely ripped apart Louisville's cute little story, rendering page after page moot. There are 18th-century censors who were less destructive to literature.
The University of Houston has a real star on its campus. One who actually steps on the field. Now, they have to keep the hometown kid there — no matter who else leaves or doesn't. The future isn't coming. It's already here — and fast and fun.
"The exposure just shows the world that Houston is a great school, a great environment and a great place to be," Oliver says after UH 36, Heisman Road Show 10. "Just… we're go-getters man."
Amen to that.