Travel / Arts
In Bologna, the Gnocchi is Divine, and the Menswear Sublime (Yes, The Frescoes are Fine)
BY Mary Margaret Hansen // 07.22.16
Nightime glow of Piazza Maggiore
And those tomato red pants ... we saw a lot of these pants on the street.
Rainy-day view from a window at Collezioni Comunali d'Arte
Hearty vegetable soup for lunch, perfect for a rainy day in Bologna.
Collezioni Comunali d'Arte on Piazza Maggiore holds the city's decorative arts collections.
Arcade takes us toward San Stephano
Fishmonger at the morning market
The uniformly fading window coverings caught my eye.
Earl on the way to Pinacoteca Nazionale di Bologna.
Local conversation in Piazza Maggiore
Earl in wonder gazing at a Perugino .
Display of wax body parts juxtaposed with Baroque ceiling friezes at Museo de Palazzo Poggi
Wax wombs made for early medical studies on display at Museo de Palazzo Poggi
Cabinets of curiousities at Museo de Palazzo Poggi
Still life and sculpture at Museo de Palazzo Poggi
Magnificent model sailing ship on display at Palazzo Poggi
Napoli's Banksy on Spaccanoapoli, as it appeared in 2013
Ron English and Earl Staley in tandem
Blu's drawings on exhibiton in "Street Art - Banksy & Co."
Vast interior of Bologna's Basilica di San Petronio
Mary Margaret Hansen at Chiesa di San Stefano
This is the sixth installment of photographer and activist Mary Margaret Hansen's travel diary, composed as she and fellow artist Earl Staley enjoyed an Italian sojourn. Read some of the previous dispatches here, here, and here, and be sure to scroll through the slideshow above.
Bologna could be called the original college town. The University of Bologna was founded in 1088, and its scholars were among the first to study law, human anatomy, astronomy, pharmacopoeia, and fossils. For centuries, this university has maintained its independence, unfettered by church or state.
Perhaps it is the university that makes the flavor of this Italian city different than any other we've visited. Perhaps it is the plethora of folks of all ages riding bicycles instead of Vespas. Perhaps, it is the Medieval and Renaissance art and architectural treasures we saw juxtaposed with 20th- and 21st-century exhibitions "Street Art, Banksy & Co." and "Edward Hopper".
Bologna does not have Rome's disordered grandeur and gravitas, nor Naples' vibrant and controlled chaos. Instead, I sensed order and unostentatious wealth. Perhaps, we "saw" more of Bologna and the Bolognese, because this city has fewer tourists. Missing are hundreds of tour groups with guides holding aloft bright scarves. In Bologna, we felt we were walking side by side with students and understated, well-dressed Bolognese. The shops are chic, the menswear divine, the food in trattorias sublime.
What struck me most as we took our first stroll through the old city center (our hotel was half a block from Piazza Maggiore and the great San Petronia Basilica) was the city's warm, earthy color palette. Medieval, Renaissance, and Baroque buildings all look like a page from a paint-sample catalogue, with closely calibrated colors ranging from rich terracottas, ocher, and raw sienna to russet, pumpkin and salmon, pomegranate and peach, mustard and taupe.
And I'm wondering if there is a public ordinance in Bologna concerning window coverings. They are all heavy tomato-red canvas that fades naturally into a plethora of soft shrimp tones. I loved the splashes of the faded colors.
Bologna's city center is unique, with 38 kilometers of graceful arcades arching over terracotta and mustard terrazzo walkways. Every major building boasts an arcade, or portico, to shade and protect pedestrians from the sun and inclement weather. It all feels so civilized.
I'd heard that Bolognese food was quite wonderful. I'd read that tagliatelle Bolognese, mortadella, prosciutto, balsamic vinegar and Parmagiano-Reggiano all originated in Bologna. Yes, it's true. Bologna's food is very, very good. We ate well and sighed with satisfaction. And during early morning market hours, we wandered from stall to stall to survey the freshest of fish, fruits, and vegetables.
By pure chance one evening, we discovered Trattoria Gianni, a small family-owned establishment down a narrow side street, and joined Bolognese and fellow travelers for the lightest, most mouthwatering gnocchi I've ever eaten. The dish was so good that I began to eat the gnocchi individually, holding each bite against the roof of my mouth, so its particular taste and texture experience would last as long as possible.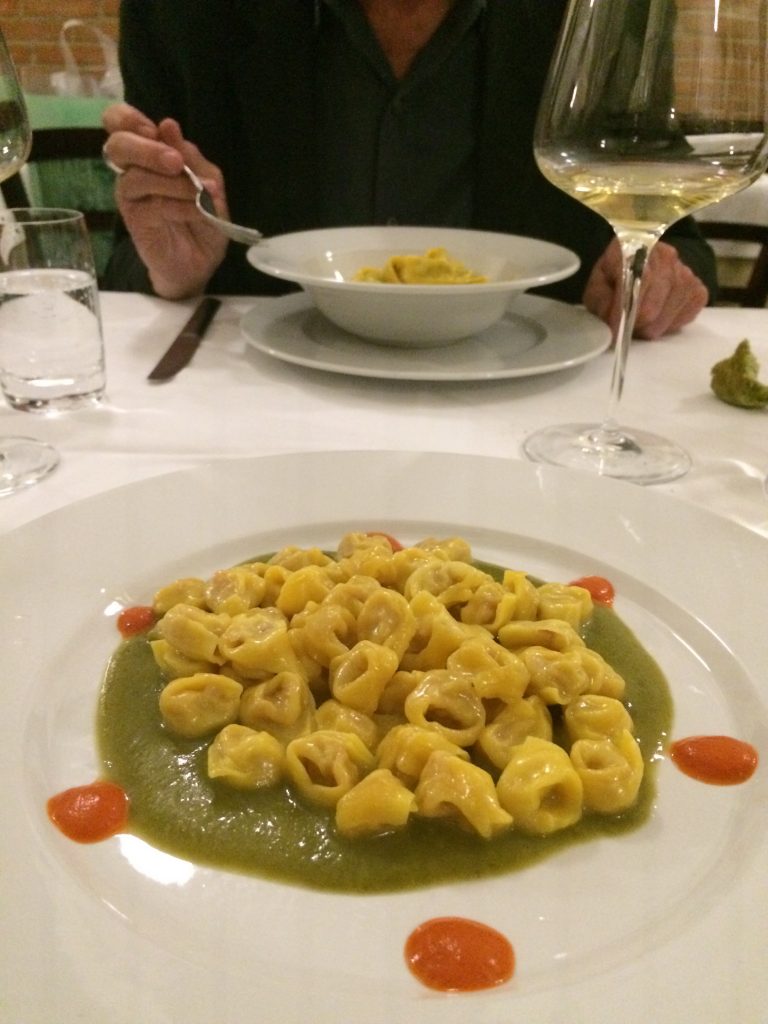 In Italian cities, it's easy to linger in front of menswear shop windows. Bologna is no exception. The subtle tailoring on jackets is magnificent, and when unexpected fabrics, unique stitching details, and interesting accessories are added to the mix, the looks are stunning. Italian menswear bowled me over three years ago, and did so once again this summer. Sure, I lusted over displays of women's shoes and eyeglasses, but the real action seemed to be in those menswear windows.
Traveling with Earl Staley is about looking at paintings, and in Italy, it's all about the Renaissance. In Bologna, Earl put us on a tight schedule. On each of our three days, we visited several museums and the requisite number of churches, all with exquisite alter pieces and frescoes.
First on his list was the Pinacoteca Nazionale di Bologna, a museum with one of Europe's most important collections of 14th- and 18th-century paintings, gathered from churches and convents when much of this bounty was being shipped off to Paris by Napoleon. Some of the confiscated paintings were eventually returned to Bologna, and today the Pinacoteca holds unique treasures and surprises.
Earl's biggest discovery was not the plethora of paintings by Bologna's Carracci brothers. He expected that. The thrill was entering a gallery where alter pieces by Perugino and his student Raphael were displayed side by side. One can gaze from one to the other to see precisely what skills and techniques were passed from one generation to the other.
The oddest, most idiosyncratic museum we visited was Museo de Palazzo Poggi, dubbed "an encyclopedia for the senses." I'd say the place is a scientific cabinet of curiosities, housed in a 16th-century palace. The palazzo's ceiling friezes depict landscapes, banquets, and the stories of Ulysses, and hover over vast collections of shells and fossils, beautifully crafted wax human bodies and body parts, wooden contraptions that display principals of light and optics, nautical maps, and model sailing ships. All serve to teach and delineate the progress of centuries of scientific understanding. The Palazzo Poggi is certainly a counterpoint to the ways we gather knowledge in 2016.
Imagine my delight in learning that an exhibition titled Street Art, Banksy & Co. could be seen at Palazzo Pepoli, Museo della Storia di Bolgona. While in Naples, we noted that Banksy's angel, which we discovered three years ago, is now protected with Plexiglas and is being well merchandised. One can buy a T-shirt or a shoulder bag imprinted with this haunting angel. Naturally, we bought both, telling ourselves they were gifts.
In Bologna, we saw more Banksy work in a retrospective of street artists that included Keith Haring, Lady Pink, and lots from Martin Wong's street art collection, now owned by the Museum of the City of New York. Much of Palazzo Pepoli's exhibition area is constructed between two older buildings, creating a light-filled loft effect. Wandering through the exhibition, we felt as if we were on the street itself.
Ron English's kitsch included takes on Marilyn Monroe and Ronald MacDonald. You just have to laugh and love them. As we perused Blu's strange drawings and comics, I wished Houston's Robert Boyd could have shared the experience with us.
As for the Edward Hopper retrospective? The lines were long, and we couldn't afford the time to wait. After all, there were the churches to see, among them Basilica di San Petronio, an edifice that dominates Piazza Maggiore. The Bolognese intended their basilica to be the largest in Christendom. Constructed over three centuries, the facade remains unfinished, but its presence is powerful. The basilica contains a unique feature – the astronomer Domenico Cassini's meridian slices across the terrazzo floor from southeast to north and a hole in the ceiling allows a stream of light to fall along the meridian, marking the precise day of the year. The steps leading up to the basilica's doors are a meeting place, always crowded with people, sitting and conversing, enjoying a summer day or evening in the piazza.
Our three days in Bologna were visual and culinary feasts. This 1000-year-old college town is not to be missed.