An exotic guest bedroom by Martyn Lawrence Bullard Design (Photo by Stephen Karlisch)
An exotic guest bedroom by Martyn Lawrence Bullard Design (Photo by Stephen Karlisch)
An exotic guest bedroom by Martyn Lawrence Bullard Design (Photo by Stephen Karlisch)
An exotic guest bedroom by Martyn Lawrence Bullard Design (Photo by Stephen Karlisch)
An exotic guest bedroom by Martyn Lawrence Bullard Design (Photo by Stephen Karlisch)
A dreamy entry hall by Bobbitt & Company. (Photo by Stephen Karlisch)
A dreamy entry hall by Bobbitt & Company. (Photo by Stephen Karlisch)
A dreamy entry hall by Bobbitt & Company. (Photo by Stephen Karlisch)
A dreamy entry hall by Bobbitt & Company. (Photo by Stephen Karlisch)
A maximalist dining room by Corey Damen Jenkins & Associates (Photo by Stephen Karlisch)
A maximalist dining room by Corey Damen Jenkins & Associates (Photo by Stephen Karlisch)
A maximalist dining room by Corey Damen Jenkins & Associates (Photo by Stephen Karlisch)
A maximalist dining room by Corey Damen Jenkins & Associates (Photo by Stephen Karlisch)
A maximalist dining room by Corey Damen Jenkins & Associates (Photo by Stephen Karlisch)
A celestial study by Ken Fulk Inc. (Photo by Stephen Karlisch)
A celestial study by Ken Fulk Inc. (Photo by Stephen Karlisch)
A celestial study by Ken Fulk Inc. (Photo by Stephen Karlisch)
A celestial study by Ken Fulk Inc. (Photo by Stephen Karlisch)
A celestial study by Ken Fulk Inc. (Photo by Stephen Karlisch)
A French salon by Michael Aiduss Interiors + Architecture (Photo by Stephen Karlisch)
A French salon by Michael Aiduss Interiors + Architecture (Photo by Stephen Karlisch)
A French salon by Michael Aiduss Interiors + Architecture (Photo by Stephen Karlisch)
A French salon by Michael Aiduss Interiors + Architecture (Photo by Stephen Karlisch)
A Georgian-inspired kitchen by Studio 6F (Photo by Stephen Karlisch)
A Georgian-inspired kitchen by Studio 6F (Photo by Stephen Karlisch)
A Georgian-inspired kitchen by Studio 6F (Photo by Stephen Karlisch)
A Georgian-style kitchen by Studio 6F (Photo by Aimée Mazzenga)
A Georgian-style kitchen by Studio 6F (Photo by Aimée Mazzenga)
An ethereal studio by Studio Michael Hilal (Photo by Stephen Karlisch)
An ethereal studio by Studio Michael Hilal (Photo by Stephen Karlisch)
An ethereal studio by Studio Michael Hilal (Photo by Stephen Karlisch)
An ethereal studio by Studio Michael Hilal (Photo by Stephen Karlisch)
A cosmopolitan office area by Pulp Design Studios (Photo by Stephen Karlisch)
A cosmopolitan office area by Pulp Design Studios (Photo by Stephen Karlisch)
A cosmopolitan office area by Pulp Design Studios (Photo by Stephen Karlisch)
A cosmopolitan office area by Pulp Design Studios (Photo by Stephen Karlisch)
A cosmopolitan office area by Pulp Design Studios (Photo by Stephen Karlisch)
"Chambre Rouge" by Alexa Hampton for Mark Hampton LLC (Photo by Stephen Karlisch. Flowers by Haile Wossen.)
"Chambre Rouge" by Alexa Hampton for Mark Hampton LLC (Photo by Stephen Karlisch)
"Chambre Rouge" by Alexa Hampton for Mark Hampton LLC (Photo by Stephen Karlisch)
"Chambre Rouge" by Alexa Hampton for Mark Hampton LLC (Photo by Stephen Karlisch)
A morning room by Dennis Brackeen Design Group (Photo by Stephen Karlisch)
A morning room by Dennis Brackeen Design Group (Photo by Stephen Karlisch)
A spectacular media room by Creative Tonic Design by Courtnay Tartt (Photo by Stephen Karlisch)
A spectacular media room by Creative Tonic Design by Courtnay Tartt (Photo by Stephen Karlisch)
A vibrant family retreat by A. Lance Design (Photo by Stephen Karlisch. Flowers by Haile Wossen.)
A vibrant family retreat by A. Lance Design (Photo by Stephen Karlisch)
A vibrant family retreat by A. Lance Design (Photo by Stephen Karlisch)
A vibrant family retreat by A. Lance Design (Photo by Stephen Karlisch)
A vibrant family retreat by A. Lance Design (Photo by Stephen Karlisch)
A soothing master bathroom by Brant McFarlain. (Photo by Stephen Karlisch)
A soothing master bathroom by Brant McFarlain. (Photo by Stephen Karlisch)
A soothing master bathroom by Brant McFarlain. (Photo by Stephen Karlisch)
A travel-inspired dressing area by Burkle Creative. (Photo by Stephen Karlisch)
A travel-inspired dressing area by Burkle Creative. (Photo by Stephen Karlisch)
A travel-inspired dressing area by Burkle Creative. (Photo by Stephen Karlisch)
A travel-inspired dressing area by Burkle Creative. (Photo by Stephen Karlisch)
A travel-inspired dressing area by Burkle Creative. (Photo by Stephen Karlisch)
A hallway and powder bath by Caroline Gidiere Design LLC (Photo by Stephen Karlisch)
A hallway and powder bath by Caroline Gidiere Design LLC (Photo by Stephen Karlisch)
A hallway and powder bath by Caroline Gidiere Design LLC (Photo by Stephen Karlisch)
A moody study by Janet Gridley (Photo by Stephen Karlisch)
A moody study by Janet Gridley (Photo by Stephen Karlisch)
A chic laundry room by Kathleen Walsh Interiors (Photo by Stephen Karlisch)
A chic laundry room by Kathleen Walsh Interiors (Photo by Stephen Karlisch)
A chic laundry room by Kathleen Walsh Interiors (Photo by Stephen Karlisch)
A feminine lounge by Liz MacPhail Interiors. (Photo by Stephen Karlisch. Flowers by Haile Wossen.)
A feminine lounge by Liz MacPhail Interiors. (Photo by Stephen Karlisch)
A feminine lounge by Liz MacPhail Interiors. (Photo by Stephen Karlisch)
A feminine lounge by Liz MacPhail Interiors. (Photo by Stephen Karlisch)
 A lacquered hallway by Mary Beth Wagner Interiors. (Photo by Stephen Karlisch)
 A lacquered hallway by Mary Beth Wagner Interiors. (Photo by Stephen Karlisch)
 A lacquered hallway by Mary Beth Wagner Interiors. (Photo by Stephen Karlisch)
 A lacquered hallway by Mary Beth Wagner Interiors. (Photo by Stephen Karlisch)
 A lacquered hallway by Mary Beth Wagner Interiors. (Photo by Stephen Karlisch)
A timeless guest bedroom by Meredith Ellis Design (Photo by Stephen Karlisch)
A timeless guest bedroom by Meredith Ellis Design (Photo by Stephen Karlisch)
A timeless guest bedroom by Meredith Ellis Design (Photo by Stephen Karlisch)
A timeless guest bedroom by Meredith Ellis Design (Photo by Stephen Karlisch)
A timeless guest bedroom by Meredith Ellis Design (Photo by Stephen Karlisch)
A timeless guest bedroom by Meredith Ellis Design (Photo by Stephen Karlisch)
A French salon by Michael Aiduss Interiors + Architecture (Photo by Stephen Karlisch)
A poolside hideaway by Traci Connell Interiors (Photo by Stephen Karlisch)
A poolside hideaway by Traci Connell Interiors (Photo by Stephen Karlisch)
A poolside hideaway by Traci Connell Interiors (Photo by Stephen Karlisch)
A poolside hideaway by Traci Connell Interiors (Photo by Stephen Karlisch)
A poolside hideaway by Traci Connell Interiors (Photo by Stephen Karlisch)
A subterranean living area by Yates Desygn (Photo by Stephen Karlisch)
A subterranean living area by Yates Desygn (Photo by Stephen Karlisch)
A subterranean living area by Yates Desygn (Photo by Stephen Karlisch)
A subterranean living area by Yates Desygn (Photo by Stephen Karlisch)
A subterranean living area by Yates Desygn (Photo by Stephen Karlisch)
Virginia's Sanctuary by Acorn & Oak by Shelly Rosenberg (Photo by Stephen Karlisch)
Virginia's Sanctuary by Acorn & Oak by Shelly Rosenberg (Photo by Stephen Karlisch)
Front courtyard landscaping by From the Ground Up (Photo by Stephen Karlisch)
Front courtyard landscaping by From the Ground Up (Photo by Stephen Karlisch)
Front courtyard landscaping by From the Ground Up (Photo by Stephen Karlisch)
A lush outside garden. (Photo by Stephen Karlisch)
A lush outside garden. (Photo by Stephen Karlisch)
A lush outside garden. (Photo by Stephen Karlisch)
A lush outside garden. (Photo by Stephen Karlisch)
A lush outside garden. (Photo by Stephen Karlisch)
A sophisticated outdoor terrace and pool deck by Robin Henry Studio (Photo by Stephen Karlisch)
A sophisticated outdoor terrace and pool deck by Robin Henry Studio (Photo by Stephen Karlisch)
A sophisticated outdoor terrace and pool deck by Robin Henry Studio (Photo by Stephen Karlisch)
A sophisticated outdoor terrace and pool deck by Robin Henry Studio (Photo by Stephen Karlisch)
The design event of the fall we all hold our breath for, Kips Bay Decorator Show House Dallas, opens today to VIP ticket holders and to the public with in-person and virtual tours on Friday, September 24 through October 24. Here, a first look at the rooms transformed by 26 acclaimed designers and architects. Each designer was given approximately seven weeks to transform their assigned space in the Show House, which is located at 5138 Deloache Avenue in Old Preston Hollow's Sunnybrook Estates neighborhood.
Honorary chairmen for this year's Show House are Jamie Drake and Bunny Williams, with co-chairs Veranda's Steele Marcoux, and designers Jan Showers, Jean Liu, and Chad Dorsey, and vice chairs Trish Sheats and Laura Lee Clark Falconer.
Veranda and PaperCity serve as national and regional media partners of the second annual Kips Bay Decorator Show House Dallas. The Show House benefits Kips Bay Boys  & Girls Club, as well as local charity Dwell with Dignity, a nonprofit agency dedicated to creating soothing, inspiring homes for families struggling with homelessness and poverty, and The Crystal Charity Ball, whose mission is to aid, support, and make contributions to children's charities in Dallas County.
Kips Bay Boys & Girls Club and the Dallas show house will be honored at the Dallas PaperCity Design Awards Friday, September 24, at Virgin Hotels Dallas.
Visits to the Show House must be booked in advance to ensure proper social distancing and face masks are required. The Show House will be taking proper precautions in light of COVID-19. Admission tickets are for specific dates and times to ensure the city and state social distancing guidelines are met. Tickets are date and time-specific. You are allowed to enter the house at any time during each time session window but need to exit by the conclusion of the session.
A 3D virtual video tour is available for those who are not able to attend in person.
Sponsors for this year's Show House include Arsin Rug Gallery, Benjamin Moore, Bentwood Luxury Kitchens, Brendan Bass Showroom, Cambria, Chantecaille, Highland Park Village, Jan Showers & Associates, Kohler, Leontine Linens, Materials Marketing, More Design Build, New Moon Rugs, Oka, Perennials and Sutherland, Peter Pennoyer Architects, Rose Cumming | Classic Cloth, Sanderson, Serena & Lily, Sewell Automotive Companies, Signature Kitchen Suite, Stone Boutique, Strike, The Shade Store, Yves Delorme, and Zephyr Gin.
TRANSPORTATION
The Kips Bay Show House Dallas Shuttle, sponsored by Premier Transportation, provides free parking and transportation to and from the Kips Bay Show House, located at 5138 Deloache Avenue. The shuttle schedule will coincide with the session times of the Show House from 10:00 am till 4:00 pm, Monday – Sunday. The shuttle is first come, first serve and we recommend getting to the parking lot ten minutes prior to departure. Please see the schedule below. If you decide not to use the shuttle, we recommend using Uber or Lyft as there is limited street parking around the house.
FIRST DEPARTURE
Depart: Lovers Lane UMC Parking Lot, 9200 Inwood Road, Dallas, Texas
Depart Time From Parking Lot: 9:45 am
Arrive: Kips Bay Decorator Show House, 5138 Deloache Avenue, Dallas, Texas
Depart Time From Show House: 11:30 am 3
SECOND DEPARTURE
Depart: Lovers Lane UMC Parking Lot, 9200 Inwood Road, Dallas, Texas
Depart Time From Parking Lot: 11:45 am
Arrive: Kips Bay Decorator Show House, 5138 Deloache Avenue, Dallas, Texas
Depart Time From Show House: 1:30 pm
THIRD DEPARTURE
Depart: Lovers Lane UMC Parking Lot, 9200 Inwood Road, Dallas, Texas
Depart Time From Parking Lot: 1:45 pm
Arrive: Kips Bay Decorator Show House, 5138 Deloache Avenue, Dallas, Texas
Depart Time From Show House: 3:30 pm
TICKET PRICE:
$40; tickets must be purchased online before you enter the Show House (www.kipsbaydecoratorshowhouse.org)
$20; virtually online at https://www.kipsbaydecoratorshowhouse.org/kbdallasvirtualtour
And Now, the Gorgeous Rooms We've All Been Waiting for …
"The Jaipur Room" by Martyn Lawrence Bullard Design, Room #16
Designer's Notes
Designed with the idea of exotic travel, my guest bedroom is an ode to fantasy and the Orientalist movement that became so popular in the mid-19th century. Dressed in a French sepia palm garden wallpaper, the room is crowned with a pair of faux ivory beds, a nod to the guest bedrooms of both Baroness Rothschild and Nan Kempner 's iconic estates. Embroidered diaphanous linen from my new collection for The Shade Store wraps the beds and windows, adding to the romantic ambiance whilst the collection of exotic furniture including an antique Indian Armour (converted to a bedroom guest minibar), Moroccan rug, and Syrian side tables provide the well-traveled connoisseur's eye to the overall experience.
A guest room should always be inviting, but also become a space where guests are transported to an experience of welcome and wonder.
My bathroom is an experiment in European glamour, reminiscent of the grand hotels of Europe where expertly laid marbles and stone are used luxuriously and the room is treated as a sensual experience rather than just utilitarian. Collections of art are displayed on the lacquered walls above paneled stone wainscoting, adding to the luxurious nature of the space and allowing it to flow with the exotic nature of the adjoining bedroom and increasing the guest's experience of being transported while being pampered.
"Perchance to Dream" by Bobbitt & Company Interior Design, John Bobbitt,  Room #1
Designer's Notes
The entry hall is a formalized mythological dreamscape. Drawing on the Napoleonic neoclassical wallpaper scenes by Zuber depicting the myth of the life of Psyche, Goddess of the Soul, strong elements of classical art, architecture, and antiquities blend with surrealist elements. A monumental sculpture by artist Larry Whiteley floats in mid-air illuminating the space from its steel branches and leaves. Themes of love and the subconscious are predominant as we endeavor to induce a serene and meditative state of mind, leaving the cares of the outside world behind.
"A Tent For New Beginnings" by Corey Damen Jenkins & Associates, Room #7
Designer's Notes
"A Tent For New Beginnings" celebrates the intersection where haute couture fashion, luxurious textures, and fantasy meet. Inspired by Cirque du Soleil, this maximalist dining room boasts a ceiling and walls dramatically draped in chintz and shantung. The fabrics, emblazoned in a lush color palette of saffron, periwinkle, emerald, and sapphire jewel tones, are  courtesy of Sanderson and Zoffany. The tented ceiling and canopy were hand-crafted by French Finish of New York, while the wall drapery was fabricated and installed by The Shade Store.
Forsaking the traditionally expected feasting set up, this dining room concept features not one, but two round tables carved from quartz, each topped with a singular brass table lamp. One table can be used for dining, while the other makes for a great workspace for home education or conducting business. Antique Louis XVI chairs, upholstered in bold, lemon-yellow velvet, accompany these sculptural tables, while a vintage sideboard and secretary provide additional gravity to the space. Artwork by Karlos Pérez and Jason Trotter add layers of sensuality and geometry respectively, and float on the walls as key focal points. Finally, Jenkins chose to forego a floor rug in favor of a unique collaboration with Deven Gadula of First, Last & Always, who fabricated a custom, Schotten & Hansen floor of a shrunk texture in a sepia color tone, featuring a Versailles pattern and framed with a soldier border.
In all, this formal dining room is built to house festive dinners, enlightening conversations, and memorable moments. It is truly a tent for new beginnings as we move forward as a changed society in a post-pandemic world.
"A Study in Optimism" by Ken Fulk Inc., Room #3
Designer's Notes
As we emerge from a difficult period worldwide,  we look forward to ushering in a glorious new chapter. The vision for this masculine study was to narrate this dawn of a new era in high design.
Conceived as a mystical journey of transformation, the tale begins at the front of the house with a light-filled re-awakening, followed by an ascension to the celestial realm and finally a release into nature with an outdoor oasis. Anchored by two glorious custom hand-crafted wallcoverings commissioned from de Gournay, the study features a bas relief mural on gilded paper representing our version of the Rite of Spring, while the adjacent bar offers an intoxicating view of the starry cosmos, embroidered entirely by hand onto an Empire blue silk velvet.
Both rooms are furnished with a mix of elegant Neoclassical pieces and glamorous Art Deco elements, including Lalique's black ebony and crystal Dragon bar. Throughout the rooms, references to mythology and divinity create a sense of magical timelessness, including a settee upholstered in a velvet depicting Roman busts from the new Surreal World collection with Pierre Frey. Case in point: Our hand-drawn oversize Tarot cards represent an always-bright future through characters we all know and love. Completing the enfilade, the outdoor patio has been transformed into a formal parterre filled with boxwoods and classical sculptures. An armillary in the center and life-sized statues of the three fates recall our most ancient quest: The never-ending search for hope and beauty in our daily lives.
"The Salon" by Michael Aiduss Interiors + Architecture, Room #2
Designer's Notes
The Salon is influenced by Parisienne muse Aveline Fournier, a French socialite who has traveled the world and is now settled in Texas with her American husband. Drawing inspiration from Aveline's past, the space reflects her love for entertaining, spirit for travel, and passion for beautiful objects — old and new.
The Salon is a room influenced by great European homes decorated by legendary designers such as Francois Catroux, Jacques Grange and Henri Samuel. This is an iconic aesthetic captured by a unique combination of generations of high-style furnishings and art resulting in chic, timeless interiors. To make the classical moldings reflect those of a great room, I worked with local artisan Casci Ornamental Plaster to create bold plaster moldings inspired by Sir Edwin Lutyens. Walls are rendered with an atmospheric strie paint finish that feels European and exotic. Decorative selects such as a Chinese black lacquer panel screen from Newel Gallery, Karl Springer coffee table from Lobel Modern NYC, and Pierre Frey fabrics, add drama. My recently launched trim collection for Houles-Paris is used on drapes and pillows throughout the room.
"Honey, Tilda Swinton is Coming Home for Dinner" by Studio 6F, Room #6
Designer's Notes
Our goal was simple — to create a gathering spot for enigmatic conversations around food with friends and family. Ms. Swinton can be at once ethereal or a bold force of nature. Our kitchen design has a similar rhythm and opportunity to take on personalities — based on the time of day, how the light interacts with the space, and the utility of all the surfaces and subtle details.
We had a responsibility to honor the symmetry of the home's Georgian architecture while moving it forward in design and style. Playful European references are familiar, not forced. It is a restrained, refined moment. The creative, tonal, monochromatic approach to the surfaces create continuity and expanse. Our use of walnut interiors in the cabinetry, paired with the earthy fern green painted exteriors encourage a grounding with the space.
The kitchen is for champagne, take-out from Toulouse Cafe, or a third cup of morning coffee. It's for whispering late at night eating a six-layer chocolate cake and for big laughs over a shared slab of BBQ ribs. It's your mood. 
"Her Study" by Studio Michael Hilal, Room #10
Designer's Notes
Being assigned "her study," I really thought about how to make it a space that is non-binary and inclusive to the modern-day person. The goal is to create a space that feels soft and ethereal. I took direction from the late '70s/ early '80s United States Southwest for the palette of celadon, nude shades, wood tones, and earthy ceramics.  
"The Wise & The Wicked" by Beth Dotolo and Carolina Gentry for Pulp Design Studios, Room #13
Designer's Notes
We created our Kips Bay space for women just like us – strong, smart, and savvy. The rooms are an homage to a modern woman, a paradox who is both wise about her business and also wickedly amusing in her off time. She's graceful and glam, playful and polished – and this loft space reflects that duality of personal style. The cosmopolitan office area is a creative space where deals are made and contracts signed. It's refined but with a distinct personality, as defined by the asymmetrical desk, art, and upholstered stools and chaise. In the lounge, accessed through a hidden passage behind custom cabinetry, the mood is more dramatic, quirky, and unexpected. A sense of fun reveals itself in the evocative wallpaper, shapely sofa, and unique chairs.
This woman also loves to entertain, and she isn't afraid of more adventurous decor for her personal space. As you walk through this vivid feast for the senses, we ask: Are you wise or are you wicked? Or maybe, like us, you're a little bit of both.
"Moulin Rouge Media Lounge," by Creative Tonic Design, Courtnay Tartt Elias, Room #23
Designer's Notes
Outside it may be raining, but in here it's entertaining! Outside things may be tragic, but in here we feel it's magic!
In the lower level of the show house, where yes you CanCan escape reality, pour a glass of Armand de Brignac champagne, and enter a spectacular media lounge where Paris' Moulin Rouge meets Palm Beach in a genie bottle!
This is a fantastical world where a "more is more" approach reveals itself through green striped Voutsa wallpaper that matches the portieres and covers the walls and ceiling and an Aux Abris Gaze wallcovering, illuminated by a five-foot pink and lavender Murano glass floral chandelier and matching Murano glass sconces. High-gloss rose-colored Acanthus-inspired molding trim from Fleur Home adorns the ceiling, crown, baseboards, and the heart-shaped bookcase that serves as a backdrop to the deep, curvaceous sectional upholstered in Zoffany's Tree Fern Weave fabric in Rhodera and trimmed with Samuel and Sons bullion fringe topped with chartreuse tassels. On the sofa are custom pillows in Lelievre's Jean Paul Gaultier, Fortuny Venezia, Sanderson fabrics and OKA fuchsia velvet pillows, all with luscious passementerie trimmings. The sectional sofa is a dazzling respite from the world outside inviting you to sprawl and contemplate the beauty of art, love, film, and all things dramatic.
Across the room, the custom Champagne Bar by Peck & Co. serves as a focal point that pays homage to the whiplash designs of Art Nouveau and Hector Guimard's Paris metro stations. Stocked with Armand de Brignac Champagne bottles that sparkle like jewelry, and crystal stemware, it's a lavish pièce de resistance. Crowning the bar is a Maison Jansen-inspired canopy valance dripping with fringe and covered in dramatic rose-colored duchess satin with voluminous ballgown drapes generously embellished with Jean Paul Gaultier rose-printed fabric bows.
The bar is flanked by Robert Calafiore photography from Foto Relevance and the gallery wall features signed Leger and Vasarely prints, vintage posters, photographs, and oil paintings. A 1970s faux elephant tusk and brass rope cocktail table, 5-legged cloisonné bronze center table in the Qing style, vintage Vladimir Kagan-inspired swivel chairs, and palm lamps weave in a romantic bohemian atmosphere while Turkish pillow ottomans in raspberry and chartreuse Fortuny fabrics with Houles tassels serve as an intimate spot to curl up. Here, fantasy is real and you CanCan be anything you want.
"Meet Me In the Family Retreat …" by A. Lantz Design, Amanda Lantz, Room #8
Designer's Notes
The room has been planned and designed for family relaxation as a get-away space where cellphones, Zoom calls, computers, and today's technology is not welcome. Spending quality time with friends and family has become especially centric in the last year and this space encourages and embraces that mantra. A television was purposely deleted from the plan to encourage conversation, a game of gin or dominos, reading, and even a nap on the antique day bed. A perfect Sunday spot for lounging, spending time with one another, and renewal.
Color was key for the space combined with antiques and modern influences. Geometry is an important element with a combination of round, square, rectangle, and hexagon shapes. "Start with the art," I always suggest. The collection of vintage and new paintings is primarily from Barry Lantz and Amanda Lantz's private collections. The custom ginkgo falling leaf wallpaper pattern from Kravet purposely connects the second story space to the main floor living. Fabric patterns and textures were carefully chosen to create a warm, relaxed, and comfortable space in any climate.
"The Sanctuary" by Brant McFarlain Design, Room #18A
Designer's Notes
My primary goal was for the room to appear as if it previously functioned for a different purpose – as if it was converted to a beautiful master bath with the bones of what once was. The design translates to a simple, refined style with layers that add depth and interest. I enjoy the juxtaposition of traditional and modern elements within one room and use this technique often to create a well-curated and balanced look.
For this room, I married the traditional elements of vintage lighting, gold leafing, and an intricate plaster ceiling with modern wood panels, Kohler's faucetry and sculptural soaking tub, and marble slab application. We modernized the layout as well, where the functional areas are centralized rather than lining the walls as typically seen. As such, we were able to designate personal areas within a shared space that feels both masculine and feminine, simple and sophisticated, old and new.
I wanted this bathroom to provide an escape from the high-stimulation of city living, stressful work environments, and the constant accessibility through so many technological mediums; a place away from the chaos of everyday life that gives a sense of peace where one can attend to their own wellbeing – a sanctuary.
"The Heimat" by Burkle Creative, Room #18
Designer's Notes
Inspired by ideas of travel, retreat, and an understated, luxurious environment that's simultaneously familiar and full of interest, our interpretation of the primary closet and dressing room evokes feelings of Heimat; a European concept rooted in feelings of personal identity and understanding, The Heimat is a place where expectations are reliable, known, and possible.
The perfect reflection of both masculine and feminine qualities, the dressing room is the ideal place for the couple's most personal treasures and daily transitions: while one enjoys a drink and unwinds from a hectic day, the other can take time dressing, yet still engage in shared conversation and reflection. The bar nook, featuring reeded wood detail, bold wallpaper by Lee Jofa, and brass and glass shelving, guarantees this cozy area is more than an ordinary dressing room. Adjacent his-and-her closets are fitted with bespoke built-ins by The Couture Closet to showcase a collected wardrobe. Even the doorways are special — detailed trim work by Casci Plaster accentuates the entire space.
Layered with textures (don't miss the rattan chandelier), pattern, and a curated aesthetic throughout each space, the result is three unique interpretations of the same story — a place designed to eliminate stress and connect within surroundings that feel comfortable and functional.
Clothing and accessories inside Burkle Creative's primary closet were styled by the Highland Park Village Personal Shopping team.
"Le Chemin au Jonchet" by Caroline Gidiere Design, Room #20
Designer's Notes
The hallway and powder bath are inspired by designer Hubert de Givenchy's dining room in his iconic Manoir du Jonchet just outside of Paris. Le Jonchet has a fabulous and storied history, where Givenchy and his partner Philippe Venet entertained the most fashionable and chic swans of the day, from Bunny Mellon and Deeda Blair to the Duchess of Devonshire and other British aristocracy. But, Givenchy's interiors were as easy as they were elegant.
For my first Kips Bay Show House, I set a path (un chemin) to Le Jonchet, revisiting and reimagining it for a modern-day Texas that is both easy and elegant, handsome and harmonious. A magnificent custom wallpaper by Gracie echos the antique Chinese scenic paper lining the walls of Le Jonchet's dining room, with a moody, neutral palette, and touches of bright blues, deep greens, and vibrant reds. Blue cotton from Schumacher coupled with a cotton tassel trim from Samuel and Sons for drapery, and small touches of printed cottons from famed French fabric house Pierre Frey, continue the comfortable and beautiful way of life found at Le Jonchet. Modern art by Kit Reuther and William McClure, French antiques, mid-century pieces, and Chinese porcelain found at Nick Brock Antiques show us the way to incorporate Givenchy's timeless style into our everyday spaces.
"Live From Preston Hollow" by Janet Gridley, Room #21
Designer's Notes
The library is a moody space inspired by the study of my grandfather, "Doc" Gridley, a country doctor and lifelong horseman who lived and rode into his 100th year. His study was dark, layered, and felt cool on the hottest summer days. It was full of the evidence of an active mind with volumes of books on medicine, animal husbandry, beekeeping and my grandmother's library of yoga, transcendental meditation tracts and novels in the original French. There was an enormous adding machine and a serious pencil sharpener. I'm not sure if I'm remembering correctly, but it's possible there was a human skull in one of the credenzas. Tying this all to Old Preston Hollow, I was motivated by the horse stories my neighbor Steve, who grew up on Straight Lane and Harry's in the '40s and '50s, would tell me about riding his pony all the way to Central when he was 9 years old. Back then the area was cotton fields and dairy farms with acreage to keep your horses, and a volunteer fire department. Molly Ivins, Ann Richards, Laura Wilson, and many of those in the Cowgirl Hall of Fame were top of mind when I was putting together the library, and imagining the type of people who might gather in this room.
I always liked Hunter S Thompson's idea of a space where "interesting people with controversial opinions" get together for lively discussions. It seems like everybody who is anybody these days has a podcast, so why not record one in this space? There's a sound booth, a turntable, and some pirate-radio-style equipment. I'm imagining that the young folks took over Doc Gridley's study, brought their record collection, and started making noise down in the basement. I call the space, "Live From Preston Hollow."
"A Breath of Fresh Air" by Kathleen Walsh Interiors, Room #12
Designer's Notes
The first floor laundry room and back hallway were designed to echo the formality of the show house as well as the newfound desire to elevate utilitarian areas. With the practical understanding that these rooms are some of the most-used areas of the house, we elevated the finishes to make laundry less of a chore, and to create a beautiful space to transition from the outside world to family life at the end of a day.
Custom window treatments, artwork, bespoke wallpapers, and rugs bring these rooms to life. Artistic Tile's Gin Fizz backsplash mosaic and Fromental's beautiful hand-painted wallpaper in the laundry room evoke a breath of fresh air and introduce a signature nuanced palette of colors that are beautifully balanced. In the hall, Phillip Jeffries wallpaper, artwork, and an FBC London Pimlico console create a calming physical and mental transition, punctuated with unexpected twists and combinations of colors and patterns.
"A Lounge of Her Own" by Liz MacPhail Interiors, Room #22
Designer's Notes
This moody, dramatic, chic, and feminine wine cellar and lounge is for the woman of the house. What brings her down to the basement of her gorgeous estate? A night in with her girlfriends, gathering with colleagues, or closing the deal with clients. This room holds the pieces of her mind's eye and personal history. It serves as a place for what she's collected and held on to — perhaps passed down from her beloved, great-aunt. It's her collection of wines from wineries she's toured and vintners she's met during travels, poured into glasses her grandmother once hosted with years ago. The dramatic lighting, the confident color, the rich fabrics, and refined details are articulated with a fearless expression yet subtle restraint. A place she calls her own.
To create our room, we simplified the ceiling details and then raised the elegance factor with fully paneled and mirrored walls swathed in a bold aubergine hue. We gathered a collection of pieces, some custom, some vintage, and pulled together an unexpected palette of aubergine, chestnut, pinks, and rusts accented with confident black and brass details. Mixing patterns and colors we created a casual, bar-style seating arrangement, meant to move and change freely depending on the evening's events and guests.
"La Chambre Rouge" by Alexa Hampton for Mark Hampton, Room #17
Designer's Notes
I am ever leery of forecasting trends. But, sometimes when things go zig, it makes me want to go zag. So, as I think red and russet tones are generally eschewed for bedrooms; naturally, that put me in mind to do a red room. I thought that the lusciousness of the red walls and material would be cut through really nicely with the use of a buttoned-up ticking stripe. So, in came the ticking on the bed and as an under-curtain treatment. I also thought the map wall, which is a new collaboration with the magnificent Gracie Studio, would find its spiritual mate in the stripes. The crisp plaster moldings we added also work to promote a sense of rigor to the room.
"Menagerie Chinois" by Dennis Brackeen Design Group, Room #4
Designer's Notes
I decided to stay somewhat in keeping with the traditional Georgian architecture of the house but also mix in modern elements to make it feel current. In reflection of this past year with the pandemic, I felt compelled to create a mood of escape and even a bit of fantasy; however, the space maintains a level of sophistication and livability. There are moments of interest by contrasting the feminine and masculine, utilizing both antique and modern furnishings, and creating the unexpected.
"Couloir de Fleurs" by Mary Beth Wagner Interiors, Room #5
Designer's Notes
We designed tow adjoining spaces, balancing modernity with traditionalism. In the hallway hangs original artwork by Carlyle Wolfe Lee featuring expressive flowers and botanicals in a bright scheme. This piece served as the inspiration for the corridor's color palette. Walls lacquered in a soothing hue from Benjamin Moore bring an air of classic glamour, juxtaposing the textured grasscloth Phillip Jeffries wall covering on the ceiling. An elegant Soane Britain fixture hangs overhead, lighting the pathway.
Just off the elegant hallway sits a well-appointed powder bath rich in organic elements. The eye is drawn to the custom vanity that combines the beauty of Stone Boutique's Calacatta Oro marble, with stained wood, and the subtle texture of straw inset on the doors. Kohler polished nickel fixtures provide the vanity a slight glint. Aux Abris' muted geometric wall covering from The Wells Companies lends the space a feminine edge. Elevation Stone expertly fabricated the same Stone Boutique marble to create intricate baseboards and moldings throughout the room, as well as the floor, where the marble was laid to mimic the pattern in the wallpaper. Above the vanity, a modern Ochre sconce highlights an extraordinary antique mirror, creating a push and pull between contemporary and classic design. On the left side of the room, a sleek, Pavoni leather-topped table with a woven Rose Cummings draped skirt from the The Wells Companies, and Samuel and Sons trim sits below artwork by Amy Opsal. Additionally, a luxurious Leontine Linens hand towel graces the vanity.
Both Mary Beth's spaces were created in collaboration with architect Jerry L. Coleman and Barcus Construction Management.
"The Admiral's Chamber" by Meredith Ellis Design, Room #14
Designer's Notes
The Admiral's Chamber is designed as a guest bedroom providing an inviting reprieve for a weary distinguished traveler.
The house's Georgian architecture sets the stage for a room that is classic yet timeless. I wanted to capture the time-honored American feel that leans traditional but has a touch of the unexpected and modern.
The inspiration began with the selection of Gracie's Nantucket Harbor wallpaper for the bathroom. This serves as a launching point, transporting you to a seaside harbor in the Northeast. Having visited Mount Vernon a few years back, the vibrant colors of the parlor and dining room were so memorable that I wanted to select a color that would be equally memorable for my space.
Providence Blue by Benjamin Moore covers the ceiling trim and millwork and provides an immense amount of depth and interest without being overbearing. Not wanting the room to feel dated or heavy, I selected an ikat fabric, Isla Indigo, by Leah O'Connel Textiles to cover the walls and used as drapery and bed canopy. When committing to one fabric, choosing the right one can make it feel very modern.
A combination of antiques and modern art provides balance to the room, making it feel both authentic and suited for today's lifestyle. My desire is for the room to be a visual feast for all who enter, drawing them in to uncover the layers and stories that lie within, as if it had been there for decades.
"Martini Muse" by Traci Connell Interiors, Room #11
Designer's Notes
Our space is uniquely tucked away but exquisitely found by those seeking refuge or refresh a martini. Directly off the poolside veranda, this is a space of fanciful relaxation and, above all, luxury. It invites guests to enjoy its peaceful, sophisticated, and unforeseen glamour. Far more than a pool bar and bath, the goal of the design was to create an ever-evolving story that is left up to the imagination of the guest. Through a luscious Arte hand-painted wall covering, the scene envelops you in warm tones of blush and basil depicting a whimsical woodland of frolicking animals among weeping foliage immersing guests in a fairy-tale moment. The bar beckons one to take a moment to relax as spirits (both figuratively and literally) soar.
Beneath the leather sconces, brass shelving sits atop fluted cabinets where the mid-evening or mid-brunch provisions are perfectly positioned for a quick pour. Beyond an arched opening is the most intimate part, the formal powder room. Basil green flows into this space as a recurring characteristic. Rather than a simple paint, the walls come to life with a gemstone illusion wall covering that looks as if it's in motion. A canopy of flowing sun hats is creatively hung from the toilet room as a surprising element for the curious mind.
"Inner Circle" by Yates Desygn, Bryan and Mike Yates, Room #19
Designer's Notes
To create our immersive space, we drew on our guiding design philosophy of conceptualizing rooms that visually delight and enhance the homeowner's lifestyle. Inspired by prohibition-era speakeasies, our room, dubbed Inner Circle for its innate exclusivity, provides a dedicated place to unwind and entertain. It was imperative that the home's subterranean level be celebrated, as so few Dallas residences include this feature. Alair Homes expertly executed the room's build, bringing our vision to life.
As visitors descend the stairwell into the space, they are immediately surrounded by sumptuous, suede walls hand-painted in a graphic neutral with Bordeaux-colored pattern, created in collaboration with Ever Atelier. At the bottom of the stairs, the expansive room, swathed in a correlating wall covering and richly stained wood, contains three distinct areas: a cozy living space, kitchen, and dedicated game table. The windowless room's intrinsic intimacy and moodiness are balanced with moments of refreshment found in the carefully curated furniture selections.
A curved B&B Italia sofa commands the living space. It offers ample room to lounge surrounding the Strike by Chad Dorsey Breccia Nuvole marble fireplace surround and the Sutherland Studio brass and glass cocktail table. In the kitchen area, a rug by Arsin Rug Gallery lends unexpected softness underfoot, juxtaposing the intricately pixelated Cambria countertops and backsplash created from the brand's Wentwood, Woodcroft, and Hollinsbrook stones, as well as a special stone debuting at Kips Bay. Sleek fixtures and appliances by Kohler and Signature Kitchen Suite provide the kitchen, full functionality, featuring custom cabinetry by Helene's Luxury Kitchens. Wired Custom Lighting created the kitchen's delicate light fixture to our exact specifications. The chains hanging from the ceiling and the fixture itself are reminiscent of a flapper's swinging fringe dress and elaborate jewelry. Off the kitchen, a game table and chairs sit next to a mirrored niche, creating a moment worthy of the most focused card shark. Other features of the room include paint by Benjamin Moore in Essex Green, Spiced Apple Cider, and Ruby Dusk, as well as Bravas audiovisual and lighting systems.
"Virginia's Sanctuary," Acorn & Oak by Shelly Rosenberg, Room #15
Designer's Notes
At the heart of each Acorn & Oak by Shelly Rosenberg design is the idea that all spaces should be adaptive and inclusive beyond being beautiful. While raising her now eight-year-old son, who lives with Down Syndrome, Rosenberg realized that families navigating various disabilities are a vastly underserved community. Utilizing her design prowess, she felt called to help create environments that not only inspire but assist and empower those with disabilities.
This mission is realized in Rosenberg's sublime suite, dubbed Virginia's Sanctuary, in honor of the little girl who inspired the design. At just seven years old, Virginia lives with Rett Syndrome, using a wheelchair to navigate her world and 'speaking' through a retinal device similar to a handheld tablet. Using this smart home technology, Virginia can manipulate many aspects of the room, including the lighting, music, window shade, and shower. Rosenberg has succeeded in designing a bedroom and bath that adapts to Virginia's specific needs, offering her support, self-confidence, and dignity.
In the bedroom, tones of warm ivory, soft green, and lavender create a psychologically soothing and rejuvenating palette. Rosenberg is an avid student of biophilia, the concept that humans are innately restored by elements that mimic nature. With this in mind, she chose a classic floral print for the bedroom wallpaper from Morris & Co. and furnishings made of sustainable materials like rattan, wool, and cotton from Serena & Lily, Arsin Rug Gallery, The Shade Store, and Perennials. The Yves Delorme bedding offers a comfortable place for Virginia to rest at the end of each day.
The uniquely mindful bathroom, however, is the star of the suite. Although the architecture did not allow for a fully ADA-compliant space, Rosenberg made every effort to implement Adaptive Design techniques, customizing the room to her client's specific disabilities. This was made possible by Kohler's smart home fixtures that utilize touchless voice control to perform commands such as turning on the shower. Beauty meets function in the sublime Cambria countertops and the tile from Bottega Design Gallery. On the walls, a Schumacher wallpaper adds visual interest, while the shower curtain by The Shade Store using Sanderson fabrics brings a softness to the surrounding hard finishes. This accessible 'wet room' is barrier-free and fully supports people of any age or ability.
Rosenberg's design was executed in collaboration with 2G Habitats.
"The Great Escape" by From The Ground Up Landscape, Dan Houchard, Room #24
Designer's Notes
The Front Courtyard Garden is meant to be an experience that reveals itself as you enter the property. You hear the sounds of the antique limestone fountain before you see it, which draws you into the space from the entry gates. As you enter the garden, you see the courtyard with its central axis flanked with refurbished park benches and planters with garden topiaries. The focal point at the end of the gravel path is the fountain, which the path surrounds, inviting you to experience it in full.
The front foundation of the home is paired with concrete benches, classic southern garden plantings, planters. A copper Swedish armillary from the early 19th century rests on a limestone plinth. While anchoring the west end of the front facade it also provides a focal point from the family room windows. The Front Courtyard Garden with its benches, water feature, paths, and layers of plant materials is meant to be experienced and enjoyed, rather than just passed by on the way to the home's entrance.
"Treillage Garden and Jefferson Pavilion" by Outside Garden, Room #25
Designer's Notes
Looking back to look forward, we introduces proven garden materials in a novel approach. Breaking away from prescribed parterres, deconstructed boxwood plantings are harbored within the architecture of structured trellises. Designed on a classic foundation, these gardens are timelessly of the moment.
Inspired by the spirit, artistry, and ingenuity of an American original, our Garden Pavilion pays homage to Thomas Jefferson and his singular Monticello. Elements borrowed and inspired by Jefferson's home and outbuildings are reimagined in the home's former playhouse, now a pleasurable retreat for a modern-day garden connoisseur.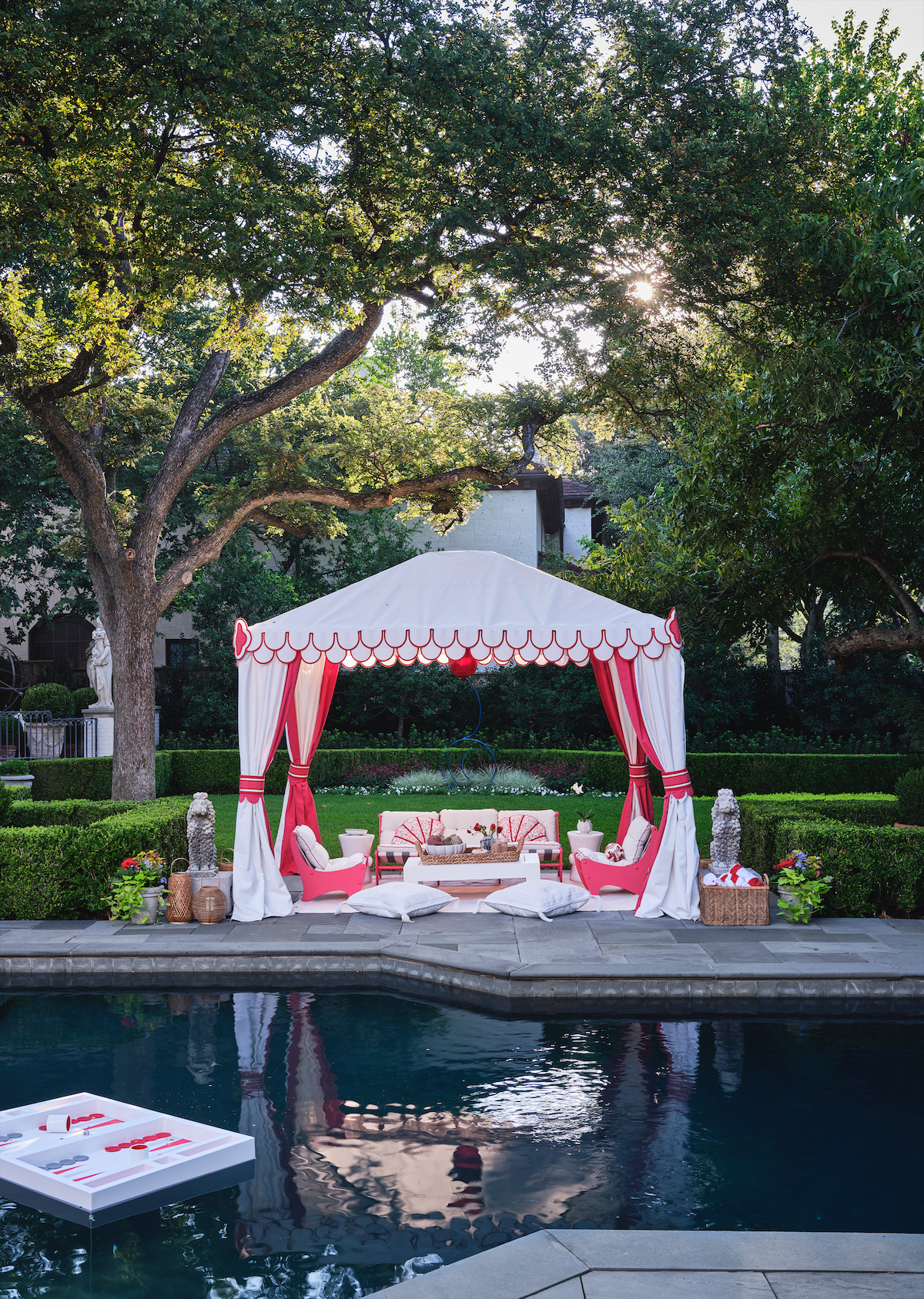 "Outdoor Terrace and Pool Deck" Robin Henry Studio, Room #9
Designer's Notes
For the outdoor terrace and pool deck, we envisioned a sophisticated and colorful party atmosphere with a mid-century twist. We were inspired by the photographs of Slim Aarons and imagined a Dallas version of his beautiful pool-centered photos of rich, witty, and charismatic characters. There are certainly plenty of those in Dallas! To that end, we created a preppy and glamorous tent in the center of the property furnished with 1960's Danish low lounge furniture, a wonderful bar lined with mirrored trellis, a custom canopied daybed featuring monograms and toweling and tassels, a comfortable dining area, and color galore.