Restaurants / Lists
The Essential Happy Hours in Dallas for Prime Drink Deals and Rare Specials
From High-End Favorites to Hidden Gems
BY Megan Ziots // 06.01.21
Dallas has a vast collection of cocktail havens and top-notch restaurants with excellent happy hours, but as is the case with every saturated scenario, the cream always rises to the top. So we ran through our Rolodex of quality happy hours to narrow down the very best. The kind of happy hours that feel like an insider secret, or offer discounts so good you'll want to go with everyone you know.
We've rounded up 10 must-visit happy hours in Dallas, from bars with killer drink deals to rare specials at high-end favorites.
Royal 38
The Union
2301 N. Akard Street, Suite 210
Dallas, TX 75201 | Map
A new cocktail concept in Harwood District, Royal 38 at The Union offers a killer happy hour. Sit inside the beautifully designed, two-story space or out on the patio from 4 pm to 6 pm (Wednesday, Thursday, Friday, and Sunday). House-made tonic cocktails with gin or vodka are priced at $9, while margaritas, Old Fashioneds, and negronis are $10. Royal 38's popular lobster corn fritters and chili sauced ribs also range from $6 to $10 during happy hour.
The bar at the Rosewood Mansion on Turtle Creek is one of Dallas' swankiest happy hours. On Monday through Friday, from 4pm to 7pm, snag a bar stool or a table at the classic spot for signature cocktails like the Mansion Gin & Tonic, Manhattan, and their Texas Margarita priced at $9 each (typical pricing is between $15 and $17). Wine by the glass is also half price and select beers are only $4.
Hudson House
Park Cities
4448 Lovers Lane
Dallas, TX 75225 | Map
Located in the Park Cities, Addison, and Lakewood, this American seafood spot offers plenty of opportunity to get in on a great happy hour. Every day from 3 pm to 6 pm, you can enjoy half-priced oysters, martinis, and frozen Bellinis at the restaurant. You can also get their signature cheeseburger for only $10.
This State Thomas neighborhood bar has been serving up stellar cocktails in Uptown since 2014. They also have a liberal happy hour. You can get drinks like a Mai Tai, French 75, Moscow Mule, and more for just $5. Beers are $4 and champagne starts at $5. Happy hour is all day Monday, 5 pm to 8 pm Tuesday through Saturday, and any time it rains.
Meddlesome Moth
Design District
1621 Oak Lawn Avenue
Dalllas, TX 75207 | Map
Called "Social Hour" at this Design District gem, happy hour is hosted from 3 pm to 6 pm every Monday through Friday. This means $4 select draft beers, $6 featured wines, and $8 cocktails. Make sure to try the new "Flew the Coop" from cocktail director Josh Brawner.
Uchi Dallas
Uptown
2817 Maple Avenue
Dallas, TX | Map
To know this Dallas happy hour is to love it (and to leave the office early). The sleek Uptown sushi destination offers specials on bites and drinks every day from 5 to 6:30 pm. The menu features cold and hot sakes (from $4 to $10), a $4 Sapporo beer, and wine by the glass for $7. Cool and hot tastings include tartare wagyu ($9) and sake pom salmon ($10), while sushi like hamachi yellowtail and akami tuna loin are priced below $5.
Tiny Victories
Bishop Arts
604 N. Tyler Street
Dallas, TX 75208 | Map
Owned by the This & That Co. hospitality group (The Whippersnapper, High Fives), this Oak Cliff spot has a hidden gem of a happy hour. Every Tuesday through Friday, from 4 pm to 7 pm, order any Tiny Victories cocktail at half price and enjoy half off domestic beers and select wines. From classic cocktails like the 2007 Victor Tango with fresh cucumber to the more creative Tyler Street Swizzle (tequila, St. Germaine, lime, mint, Peychauds, Tajin, sugar), drinks range from $5.50 to $6 during happy hour.
HG Sply Co.
Lower Greenville
2008 Greenville Avenue
Dallas, TX 75206 | Map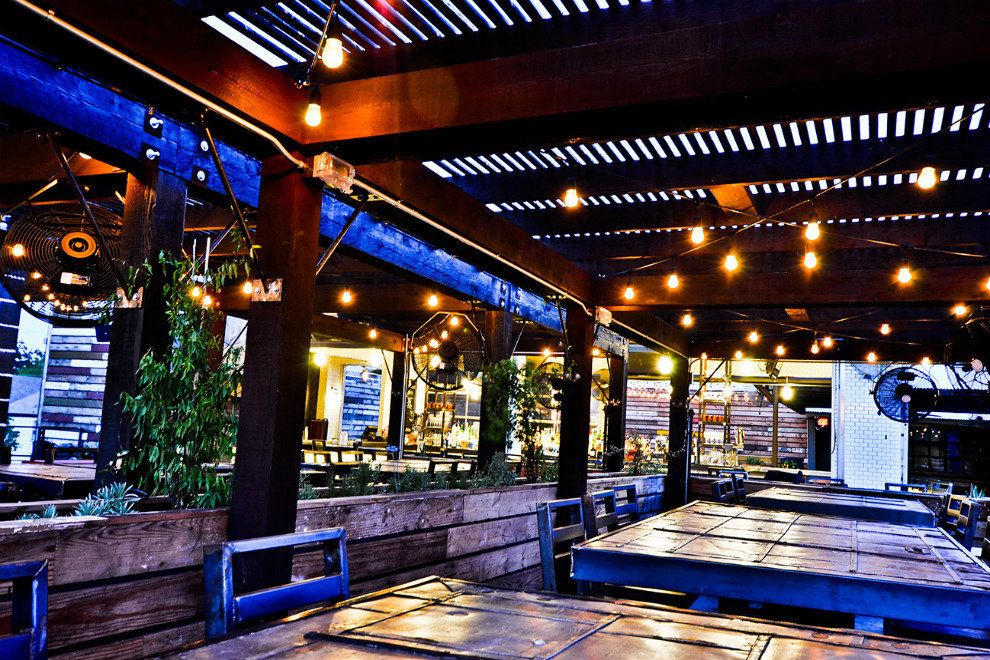 This popular Lower Greenville rooftop spot offers a killer happy hour (and great views) every weekday from 3 pm to 6 pm. House wines are $6, draft beers are $3, and cocktails like the HG Mule, Cucumber Smash, HG Old Fashioned, and Strawberry Smash are priced at just $5.
Las Palmas
Uptown
2708 Routh Street
Dallas, TX 75201 | Map
This Uptown Tex-Mex restaurant is great for enchiladas, tacos, and fajitas, but their happy hour is also on point. Offered every day from 2 pm to 7 pm, you can get a cocktail (Old Fashioned, Daiquiri, ranch water, Roy Rogers, Bay Breeze, or Gimlet) for $6, a frozen margarita for $6.50, and adraft beer for $4. A la carte food items like tacos, burritos, tamales, and nacho fries are also $8.25 during happy hour.
Bowen House
Uptown
2614 Boll Street
Dallas, TX 75204 | Map
This charming Uptown spot in a Victorian-style house offers a great happy hour daily from 4 pm to 6 pm. Cocktails are $7 and Texas beers cost $4 each. Sit on the patio or reserve a spot inside the back bar room and enjoy creative drinks like the Hip Hop Caree or Extra, Extra!