Restaurants / Lists
Fort Worth's Best Restaurants — a Top 10 to Wow Your Foodie Friends
Cowtown's Dining Scene Has Grown Up in a Major Way
BY Megan Ziots
The tomato salad at Ellerbe Fine Foods is made with locally sourced ingredients. (Courtesy of Ellerbe)
The CP Burger at Clay Pigeon is a favorite. (Courtesy of Clay Pigeon)
Pay what you can for the Chicago Style Eggrolls at Taste Community. Courtesy of Taste Project
Saint-Emilion is located in a cozy cottage on W. 7th.
Lili's Bistro has been around since 2007. Courtesy of Lili's
The Grace Seafood Tower has king crab legs, oysters, and more. Courtesy of Grace
Reata has several private dining areas and amazing rooftop views. Courtesy of Reata
A Heim Barbecue spread of meats, potato salad, and banana pudding. (Photo by Jason Kindig)
Little Red Wasp is known for their brunch. Courtesy of Little Red Wasp
Lonesome Dove Bistro is a Tim Love establishment. Courtesy of Lonesome Dove
Fort Worth has got Southwestern food down, housing the Historic Stockyards and all. So, it makes sense that the top restaurants in the city are mostly American and Southern fare.
From upscale dining on Sundance Square to former gas stations on Magnolia Avenue, Fort Worth has some picturesque locations to have a good meal. A French bistro, a killer barbecue spot, and an eclectic piano bar also made the cut.
These are Fort Worth's Best Restaurants — consider it a Top 10 to eat by.
Ellerbe Fine Foods
1501 Magnolia Avenue
Housed in a one-time gas station, Ellerbe Fine Foods is where fine dining meets farm-to-table cuisine. Located on the oh-so-popular Magnolia Avenue, meals can be eaten inside of one of several dining rooms or on the outdoor patio.
Menu offerings range from Mixed Melon Gazpacho and B&G Garden Edamame Ravioli to Confit Heritage Pork and Crispy Texas Quail. For dessert, the Maw Maw's Bread Pudding is a popular pick with whiskey sauce, cinnamon whipped cream and pralined Texas pecans. And the wine list is carefully selected to include wineries such as Rose Gold, Lucia and Littorai.
Clay Pigeon
2731 White Settlement Road
Arlington-native and chef Marcus Paslay opened Clay Pigeon in 2013. Since then, it's been one of the most popular spots in Fort Worth for American food and a fine dining experience. Focusing on house made and locally sourced creations, the restaurant offers an upscale twist on classic American cuisine.
For instance, the menu features the CP Burger with roasted garlic aioli, smoked cheddar, LTO and French fries. Steaks are available, either New York strip, Eye of Ribeye, or Porter House. You can add on a side like mac & cheese or buttermilk whipped potatoes. And CP Bacon Wrapped Figs are the signature starter with house ricotta, honey and aged balsamic.
Taste Community Restaurant
1200 S. Main Street
A nonprofit restaurant, Taste Community is a "pay what you can" restaurant. The menu does not have any prices and guests are asked to pay what they can afford, pay what they would typically pay, or pay a little extra to help someone in need. Opened two years ago, the restaurant is a must-go destination not only for this extraordinary concept of fighting hunger, but for the great food.
Open for lunch and weekend brunch, the summer menu has a lamb burger, Asian shrimp noodles, BLT sandwich, California chicken sandwich, Cobb salad and roasted pork tenderloin. And for brunch, besides these options there is a cinnamon raisin French toast, parfait, and smoked salmon and avocado toast.
Saint-Emilion Restaurant
3617 W. 7th Street
Fort Worth's best French restaurant, Saint-Emilion is located on West 7th in a cozy cottage house. It's an upscale bistro spot with homestyle French cuisine. A Fort Worth staple since 1985, it truly makes you feel like you've been transported to a quaint French village.
The Saint-Emilion menu has all of the classics including escargots, steak tartare, salad nicoise, quiche and more to start. For main courses, you have choices like coq au vin, poison frais, filet de boeuf, and bourride a la setoise. Or you can order meals for two such as, a 16-ounce angus rib eye, duck, mussels, and more. Add on a side of pommes frites and bon appetite.
Lili's Bistro
1310 W. Magnolia Avenue
Established in 2007, Lili's Bistro creates a romantic ambiance with candlelit dinners and piano music on evenings. But the restaurant also hosts a more casual lunch with extra seating located on the "Lilipad" deck. Known for its global cuisine, the menus offer something for everyone.
For dinner, order an entree of Elk Sausage & Pappardelle Pasta, Green Chile Pork Loin, or Double Lobster Ravioli. There are also several vegetarian options like Harvest Gnocchi, Quinoa Stuffed Poblano, and Hazelnut and Rosemary Farro Alfredo. Three types of burgers fill the "from the grill" portion of the menu, including the House Burger with gorgonzola dressing, bacon and tomato, a Poblano Burger and Three Cheese Burger.
GRACE
777 Main Street
Modern and classy, GRACE is a go-to spot for an upscale dining experience with delicious American food. Voted as a Diner's Choice 2019 on OpenTable, the restaurant is one of the best fancy restaurants in Fort Worth. The Dirty Margarita is a must-try and the wine list is extensive.
Ranging from a raw bar to all kinds of beef and fish, the menu is vast, but particular. For apps, try the Hawaiian Blue Prawns or Lamb Belly Dumplings. Salads include the "Toad in a Hole" with frisee, asparagus, egg, bacon and truffle vinaigrette. And entrees range from filets and lamb to scallops and ahi tuna.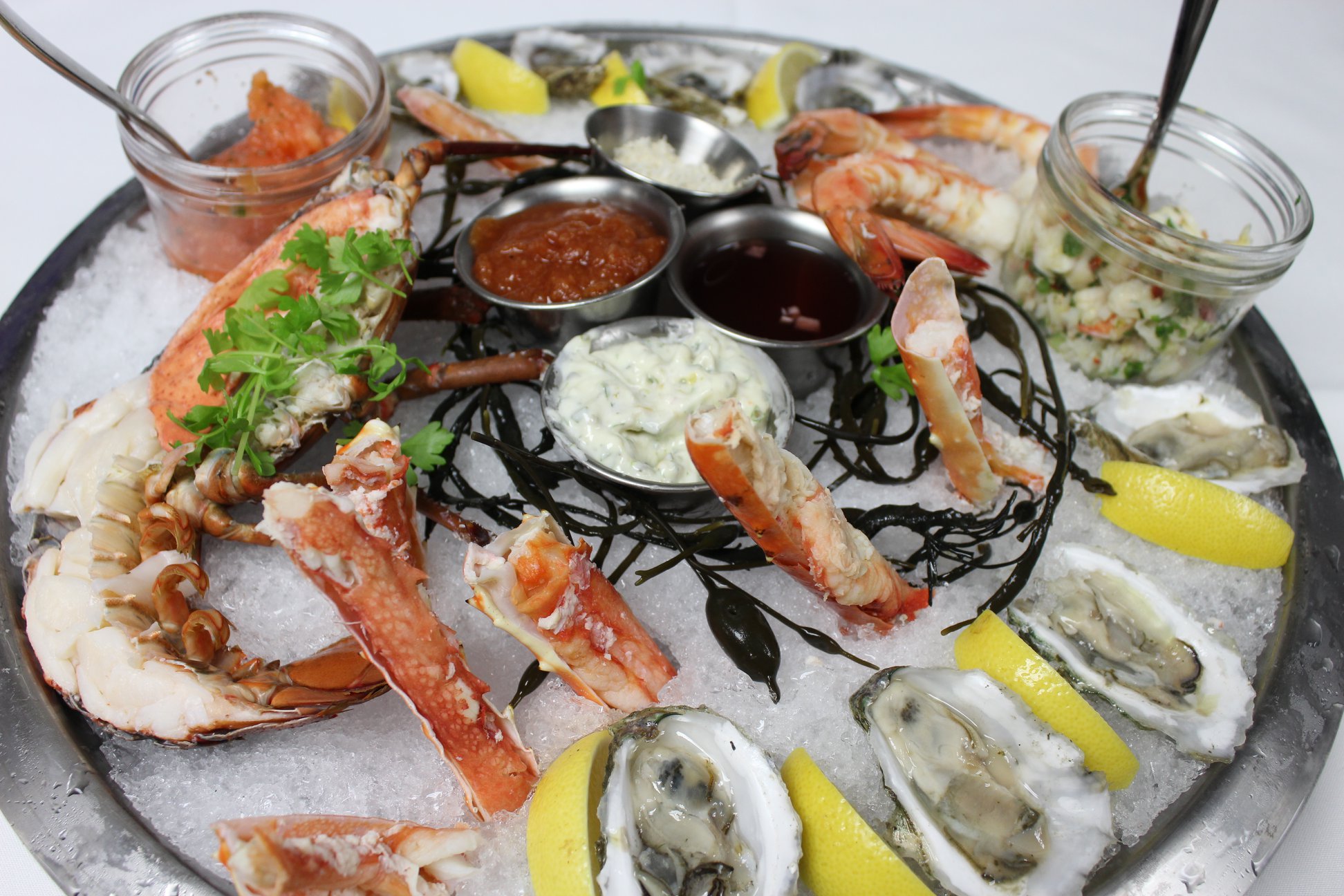 Reata Restaurant
310 Houston Street
A Sundance Square establishment, Reata is a Southwestern restaurant and rooftop bar. The four-story building boasts six private dining rooms and incredible rooftop views of downtown. An original in Cowboy cuisine, with a mix of Southern and Creole flavors, the restaurant is open for lunch, dinner and brunch.
Popular dishes include the tenderloin tamales, carne asada and bacon wrapped shrimp. Reata is also known for its Southern cocktails like The Reata Grand with Sauza Extra Gold and Grand Marnier, and Clear Fork Cherry Vodka Limeade. For dessert, you can't go wrong with the West Texas Pecan Pie.
Heim Barbecue
5333 White Settlement Road & 1109 W. Magnolia Avenue
I know we've been mentioning Heim BBQ a lot lately, but it's just that good. The newest location offers a much more modern feel, with two full-service bars, a covered patio and outdoor beer garden. And it's not like any other barbecue joint. They've made up their own burger concoctions with blends of beef patties and brisket.
The Heimburger is a must-try. It has two beef patties from 44 Farms blended with smoked brisket, American cheese, BBE jam and house sauce. All of the homemade sides are good, but the green chile mac & cheese is the best. And then you can't leave without trying the banana pudding.
Little Red Wasp
808 Main Street
The alter ego of GRACE, Little Red Wasp is a more casual American food spot. Open for lunch, dinner and a weekend brunch, the menus consist of lots of fried chicken and sandwiches.
Some favorites are the chicken biscuit with cheddar cheese and black pepper gravy for brunch, and the crispy chicken sandwich cabbage slaw and jalapenos for any time. There are also nightly features like shrimp and grits, short rib, and spaghetti and meatballs. The restaurant has an extensive beer selection and specialty cocktails as well.
Lonesome Dove Bistro
2406 N. Main Street
A western bistro in Fort Worth, Lonesome Dove has been around since 2000. It's located in the historic Stockyards District and owned by Fort Worth celebrity chef Tim Love. He designed a menu influenced by ingredients and cultures that have been a part of the West since back in Chisholm Trail days.
Open for lunch and dinner, first course choices for dinner include rabbit-rattlesnake sausage, kangaroo nachos, and antelope tacos. For main courses, you've got hefty dishes like Rocky Mountain elk loin or chicken fried steak or Wagyu Tomahawk ribeye. Also, the cocktail menu consists of Texas-themed drinks with names like The Willie and Comanche Moon.
To sign up for PaperCity Fort Worth's new newsletter, packed with stories, insights and happenings, click here.