Restaurants / Lists
Fort Worth's 30 Best Restaurants — From Cowtown Classics to Newer Restaurant Winners
Your Guide to One of Texas' Top Food Scenes
BY Courtney Dabney // 04.17.23
Ellerbe Fine Foods leans into its wine program at the beautiful bar. It is one of Fort Worth's Best Restaurants.
Aventino's - Tortellini Aventino's gets a close-up filled with ham, peas and parmesan cheese.
B & B Butcher's Carpet Bagger appetizer is a crowd pleaser.
Chef Jon Bonnell is famous for hospitality and his wild game at Bonnell's Fine Texas Cuisine. (photo by georgie miller)
There's always something new on chef Jett Mora's seasonal menu at Café Modern.
A cool collection of house cocktails and a fab menu set Captial Grille apart.
The classic grilled duck breast is always a win at Clay Pigeon.
The Chilean sea bass en mole negro is a showstopper at Don Artemio.
The stunning shellfish tower is a sight to behold at Eddie Vs Prime Seafood.
Ben Merritt serves up Gulf inspired fare for a westside crowd at Fitzgerald.
Fixe Southern House - Don't forget an order of the best Southern style biscuits you might ever taste.
The grounds are as sumptuous as the dishes at Gemelle.
The glass fronted wine cave at Grace along Main Street in Fort Worth.
Hatsuyuki Handroll Bar - Hokkaido sea scallops are a delicacy even in Japan, much less in Fort Worth.
Since 1975 the Japanese Palace has reigned supreme. Behold the onion volcano.
Joe T. Garcia's - This landmark has served generations in Fort Worth since 1935.
La Onda brings things like seafood campechana with scallops, bay scallops, and coho salmon in aji basil aguachile served on tostadas.
Lonesome Dove - Dine Texas style on wild game and succulent steaks at Lonesome Dove Western Bistro in the Fort Worth Stockyards.
The decadent chicken fried steak at Michael's Cuisine along West 7th Street.
The legendary crab cake salad settles into its mustard sauce at Pacific Table.
Paris 7th - The blackboard changes weekly at this upscale French restaurant.
Piatello - Lobster Ravioli draped in brandy cream sauce with fresh tarragon.
The legendary tenderloin tamales with pecan mash are a must try at Reata.
Rise No. 3 - Rise souffles are picture perfect, fluffy and oh so French.
Saint-Emilion - Always check the blackboard for daily specials, but never overlook the lamb chops.
Tinie's serves up fresh guacamole with crispy fried tostadas and shrimp ceviche to die for.
Toro Toro - Grilled ribeye with chimichurri sauce fresh off the wood fired grill.
Tre Mogli has a full menu of Italian favorites to enjoy.
Waters - Get ready to dive into the dirty dozen at Water's, it's a quick trip to the best oyster beds in the world.
Wicked Butcher is fine dining in Art Deco Moderne digs.
Being a food writer, people ask me all the time about my favorite Fort Worth restaurants. I get texts and calls asking for my recommendations for the best new restaurants in town. The best romantic dining spot, the best atmosphere. You name it, people want to know the best Fort Worth restaurants in every category. But that's a tough question to answer. Are we talking about the menu, atmosphere, or service?
My follow-up question is usually: "Well, what do you like?" Because these days, you can find just about anything you're craving in Fort Worth. The breadth and quality of the city's dining options have exploded in recent years, and I've had a front-row seat to explore most of it. So I have arranged a few of my favorites in alphabetical order.
Disclaimer: I couldn't include every fabulous Fort Worth restaurant on this list (or it might break the Internet) so for all those restauranteurs and chefs ― if your favorite is not on this list ― chances are it will be on another.
These are the 30 Best Fort Worth Restaurants:
Aventino's Ristorante
This family-run Italian restaurant has been a date night destination since 1982. Owner Erica Paez Hight is the daughter of Aventino's original owners Olga and Al Paez. Her husband Eric Hight is now the chef. Pasta dishes, along with chicken and veal, make this Ridglea neighborhood favorite a standout. Oh, and most of the artwork on the walls is on loan from my father. Aventino's is a sentimental favorite for sure.
Dish to try: Tortellini Aventino's is a blend of cheese tortellini mixed with green peas, ham, minced onion and bacon in a rich Alfredo sauce.
B & B Butchers
Now prolific restauranteur Benjamin Berg brought his second-ever B & B Butchers to Fort Worth. It was one of the first restaurants to open in the Shops at Clearfork. The fine dining steakhouse has a The Butcher Shop located right next door where you can pick up prime cuts to grill their aged-in-house steaks at home.
Dish to try: The Crab Louie is an extravagant plating with hearts of palm, asparagus, tomato, boiled eggs, capers, avocado, green onions and lavish doses of jumbo lump crab.
Bonnell's Fine Texas Cuisine
Chef Jon Bonnell's original restaurant is still going strong in Fort Worth after more than 20 years. Well known for his wild game and truly Texas cuisine, Bonnell's has become a Fort Worth mainstay, including for special occasions and caterings. From boar to redfish, buffalo to rabbit, this chef can make a believer out of the biggest skeptic. Wild game is delicious and Jon Bonnell can prove it.
Dish to try: Oysters Texafeller is a signature dish for good reason. Texas bay oysters on the half shell are filled with spinach, shallot and Tasso ham, flavored with butter, creole seasoning, cayenne and a dash of hot sauce.
Cafe Modern
Now helmed by Wolfgang Puck catering veteran Jett Mora, the plates are as mesmerizing as the famous backdrop at Cafe Modern. This Fort Worth institution is located inside Tadao Ando's Modern Art Museum of Fort Worth, with a view of the reflecting pool. The seasonal menu gives Mora and his team the chance to create and recreate with a special focus on sourcing from the best the region has to offer.
Dish to try: Pan-seared jumbo scallops are served with bacon lardons, root vegetable puree, fennel, caulilini, and buttermilk sauce.
Capital Grille
Located in downtown Fort Worth among some of the city's best steakhouses, Capital Grille remains a go-to for its atmosphere and consistency. From the Kona coffee-rubbed New York strip to a shellfish platter filled with lobster, shrimp and oysters, you know you're in for a memorable meal at this Fort Worth restaurant staple.
Dish to try: Double-cut lamb chops dressed in mint gremolata and honeycrust are served with white wine and shallot jus.
Clay Pigeon
Marcus Paslay's first restaurant Clay Pigeon remains a chic, industrial-style respite, serving locally sourced food. Whether you're sharing a charcuterie board and cocktails at the long bar, or dining with friends, the American-style menu is not to be missed. Regulars tend to start with a charcuterie board or the roasted bone marrow with grilled sourdough slices.
Dish to try: The grilled duck breast is sided by duck jus, honey crisp apple, sweet potato, kale and red onion.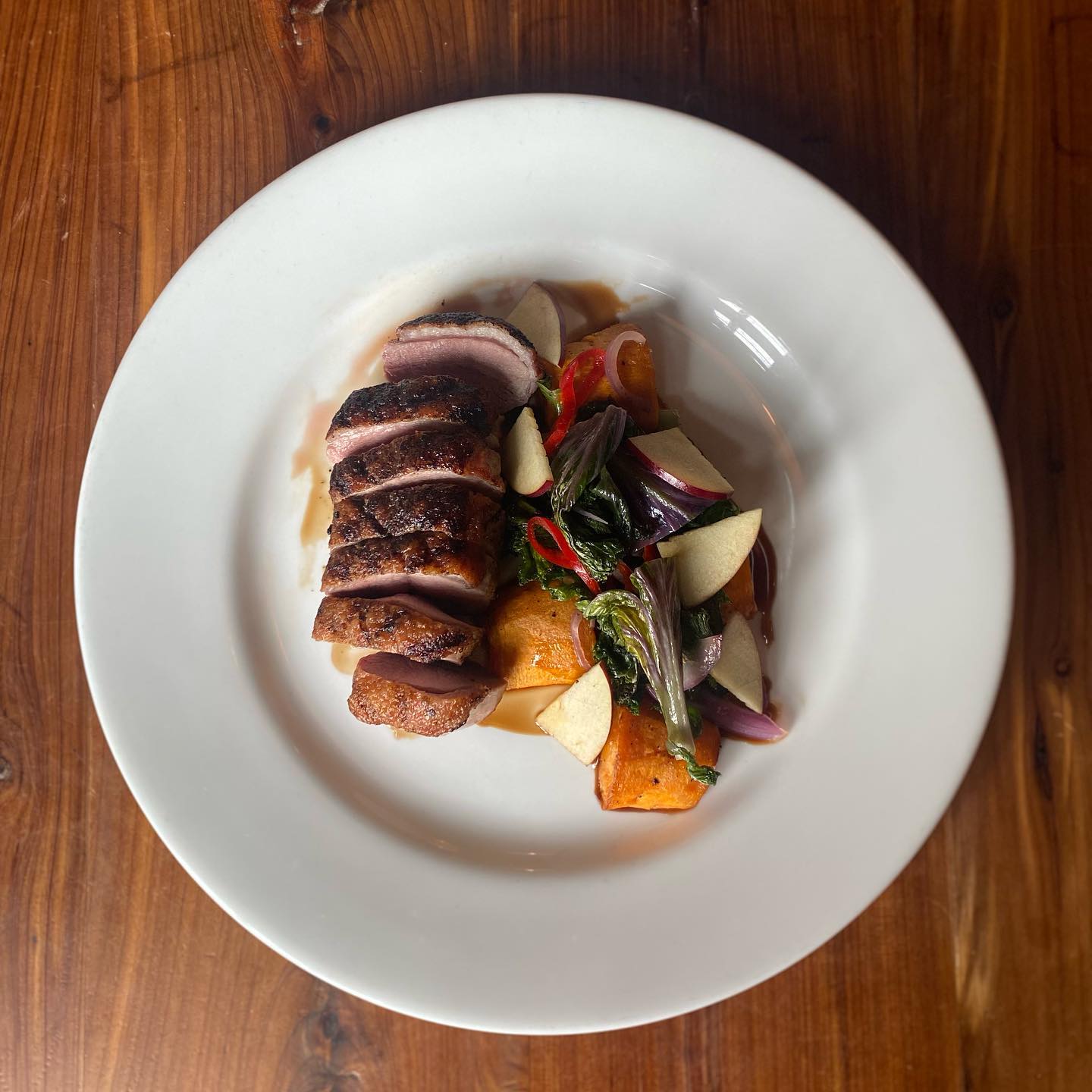 Don Artemio
The second location of this Saltillo, Mexico restaurant classic arrived in Fort Worth's Cultural District and Don Artemio received a Best New Restaurant nod from the James Beard Foundation within a matter of months. It boasts classy cocktails, Mexican wines and authentic specialties you just can't find anywhere else like roast cabrito, grasshoppers and fried cactus.
Dish to try: Chilean Sea Bass en Mole Negro is an Oaxacan dish with sliced seared plantain and tomato herb rice.
Eddie V's Prime Seafood
It's hard to believe Eddie V's opened at Fort Worth's Museum Place in 2008. Cowtown still can't get enough of the swank atmosphere and fresh seafood. Meeting friends at its V Lounge for happy cocktails or diving into an extravagant shellfish tower are quintessential Fort Worth experiences.
Dish to try: The Main Lobster Bisque is richly blended with generous chunks of Maine lobster, cream and cognac.
Ellerbe Fine Foods
Childhood friends and Louisiana transplants Richard King and chef Molly McCook brought their farm to table philosophy to Fort Worth with Ellerbe Fine Foods. This unique Fort Worth restaurant is located inside a former gas station along Magnolia Avenue and it already boasts awards from the likes of the James Beard Foundation and Bon Appetit magazine. Seasonal sourcing is prominently attributed on the menu.
Dish to try: Grilled Bacon Wrapped Artic Char is sided with Beluga lentils and roasted market root vegetables, with Dijon brown butter vinaigrette and creamed garlic.
Fitzgerald
Chef Ben Merritt opened something new in the Ridglea neighborhood in 2022. His Fitzgerald restaurant and bar is always hopping — and it's already one of Fort Worth's Best Restaurants. The menu ranges from Gulf coast inspired seafood to prime steaks. There are even lobster corndogs.
Dish to try: Pan Seared Sea Scallops with parsnip puree, pepitas and beurre blanc.
Fixe Southern House
The second location of chef James Robert's Fixe Southern House was an early entrant into the Shops at Clearfork. The lovely bar and dining room are a local favorite for not only dinner, but also happy hour and brunch. From lobster and crawfish pie to shrimp and grits and even fried chicken, it doesn't get more Southern than this.
Dish to try: I don't care what your order, just don't forget the Fixe Biscuits. They're served with whipped Steen's butter, housemade fruit preserves and organic Texas honey.
Gemelle
Chef Tim Love resuscitated a famous White Settlement dive and put his positively Positano stamp on the space when he opened Gemelle. Detroit style deep dish pizza pairs well with a negroni. And how about a limoncello spritz with your brunch time steak and eggs? Going to Gemelle's is really a mini-stacay inside the Fort Worth city limits. You can even spend the night at Hotel Otto, an onsite container hotel.
Dish to try: The lighter-than-air ricotta gnocchi swimming in a fresh sausage and tomato ragu.
Grace
Dain "Adam" Jones and Chef Blaine Staniford ― who was one of the youngest graduates of the Culinary Institute of America in Hyde Park, New York at age 19 ― have become a culinary force in Fort Worth. They have three restaurants in downtown, including Little Red Wasp and the new 61 Osteria. But it all started at Grace, which remains one of Fort Worth's Best Restaurants, with a sleek and modern aesthetic and two sommeliers on staff.
Dish to try: Capellini Nero never disappoints. It's delicate squid ink pasta topped with Maine lobster, trumpet mushrooms, marinated chilis and toasted bread crumbs.
Hatsuyuki Handroll Bar
When you're craving Japanese food in Fort Worth, Hatsuyuki Handroll Bar is the place to go. It's an unexpected gem. This simple U-shaped sushi bar is known for importing the best and freshest sushi-grade fish. Expect elegant sashimi slices, hand rolled seaweed wraps and succulent sushi. There's always something unexpected and the special of the day is forever changing.
Dish to try:  Aside from whatever the chef suggests, which is always the way to go, if they have Hokkaido scallops or Chutoro (fatty tuna) in, those are a real treat.
Japanese Palace
Speaking of sushi, this Fort Worth throwback was one of the first places to sample it in town many years ago. The parking lot is always packed at Japanese Palace on a weekend along Camp Bowie West. With its time-capsule lounge (circa 1975) for waiting on your teppanyaki table to be ready, Japanese Palace is still first come, first serve. So bring your patience and get ready for the big show.
Dish to try: Teppanyaki meal of filet mignon and chicken breast, served with rice and miso soup, shrimp flamed in brandy and grilled vegetables.
Joe T. Garcia's
If you are a Fort Worth native, your mouth is already watering for a giant nacho topped with diced jalapeno at any mention of Joe T. Garcia's. That's always how a meal begins in the lush tropical oasis that continues to expand near the original family home in Fort Worth's Northside. Unless you book a party, or know someone, be prepared to stand in line. And don't forget cash. No credit cards are accepted at Joe T. Garcia's.
Dish to try: A pitcher of house margaritas doesn't qualify as a dish, so you'll need to order The Family Meal to wash it down. It includes family-style guacamole, creamy refried beans and rice, hand-rolled cheese enchiladas, and beef tacos.
La Onda
Update: Sadly,La Onda has permanently closed, just a year after that Bon Appetit recognition.
Bon Appetit named La Onda among its top new restaurants of 2022. Chef Victor Villareal gets artsy with fresh fish at this Race Street bungalow. Expect dramatic ceviche, oyster and caviar service, and a rotating menu of fresh catches. All prepared with Latin inspiration.
Dish to try: Shark-cuterie board filled with house cured gravlax, caviar, ceviche and fish dip alongside toasted bolillo bread, soft egg, pickled veggies and crema.
Lonesome Dove Western Bistro
Chef Tim Love's first restaurant is still one of his best some 20 years later. Austin and Knoxville now have their own Lonesome Doves too. Brick walls and wood floors in the dining room lead to a shady patio out back by the river in this Fort Worth original. Mains range from bison, elk and rabbit to ribeyes and rainbow trout.
It's a Texana tour de force at Lonesome Dove Western Bistro.
Dish to try: Diver scallops with roasted vegetables and creamy risotto, topped by tobiko caviar and beurre blanc sauce.
Michael's Cuisine
Chef Michael Thompson has been serving his contemporary take on ranch cuisine for decades at Michael's Cuisine. Tucked into a familiar corner at Chicotsky's Center, you'll find his cozy Ancho Bar as well. Expect a tasty menu of Gulf crab cakes, tender chicken fried steak and Michael's Cuisine's classic pecan crusted goat cheese chicken.
Dish to try: Call me sentimental but the original Mac's Salad tossed in its roasted sesame seed dressing is just about as old school Fort Worth as it gets ― a la Mac's House.
Pacific Table
One restaurant from a growing list of winners from Chef Felipe Armenta, Pacific Table blew my hair back when it arrived with a fresh take on Pacific Northwest food. At a time when fine dining meant only steak in Fort Worth. An array of fresh fish is grilled, seared, sauteed, pan fried or roasted to perfection at Pacific Table. You'll also find some of the best sushi specialties in town in the swank freshly-redesigned restaurant.
Dish to try: The crab cake salad is a Fort Worth favorite, filled with jumbo lump blue crab, ­field greens, fresh avocado, tossed with a lemon garlic dressing, dusted with fresh Parmigiano Reggiano and a side of Pommery Meaux mustard sauce.
Paris 7th
The fine dining sister restaurant of Saint-Emilion changed hands in 2022. But Paris 7th remains true to its ideals with Chris Salvador and Mark Hitri now at the helm. Recent specials have included scallops in lobster sauce, chervil crepe escargot with white wine, leak, butter and pine nuts, and a mouthwatering Basque cheesecake. The blackboard menu changes weekly.
Dish to try: Sole de Douvre Meuniere is simply perfection. The Dover sole is cooked whole, filleted tableside and finished with lemon, butter and parsley.
Piatello
The Italian cousin of Marcus Paslay's other notable Fort Worth restaurants Clay Pigeon and Provender Hall never fails to impress. The Piatello space, with its patio facing onto the Waterside lawn, received a refresh in 2022, but the from-scratch menu filled with fresh pasta dishes, crispy shareable pizza creations and Italian-inspired cocktails remain untouched.
Dish to try: Lobster ravioli are freshly prepared pillows resting in a bed of brandy, cream and tarragon.
Rise No. 3
The dream of satisfying the need for classic French souffles became an obsession for Hedda Dowd. Her Rise was born in Dallas. Fort Worth's Clearfork neighborhood has been lucky enough to have its own Rise No. 3 since 2017. Savory and sweet seasonal creations sit alongside other bistro delights like the salad niçoise. Its interior is filled with bistro chairs and tables, and even little touches like those French baguette guillotine slicers.
Dish to try: It goes without saying that you must save room for dessert, but the savory souffle filled with Jambon & Gruyère tastes a lot like that crepe you nibbled near the Louvre.
Reata
Fort Worth's favorite ranch-style restaurant began in the tiny Texas town of Alpine in 1995, before landing in downtown Fort Worth's Sundance Square in 2002. Reata is still owned by the Micallef family and this is the kitchen where many now prominent Cowtown chefs got their start.
The ranch style dining at Reata ranges from blackened buffalo ribeyes to jalapeno cilantro crusted redfish. In the dining room, reatas or ropes carry the cowboy theme.
Dish to try: The tenderloin tamales with pecan mash are legendary as an appetizer or a full meal.
Saint-Emilion
The story of this Fort Worth restaurant icon began like a storybook in 1985. . . in a tiny A-frame cottage covered in vines. . . at least that's the way I remember it. Saint-Emilion is the French bistro that offered Fort Worth such rarities as escargot bourguignonne in parsley butter, pate and canard. And it is even more relevant today.
Long live Bernard Tronche's ode to his childhood in France.
Dish to try: Always check the blackboard, but never underestimate the lamb chops which get their plating changed seasonally.
Tinies
The taco queen of Fort Worth, Sarah Castillo went from a food truck to opening two Taco Heads taco shops. But her family dining restaurant called Tinie's along South Main is a standout. Picture crispy octopus, tamales by the basketful and tuna tostadas. It all sets the stage for the main course which includes large-format items like braised short ribs and roasted pork pastor to share.
Dish to try: Shrimp ceviche in mango nectar, with fresno pepper, pickled red onion and chili oil.
Toro Toro
Global sensation and chef Richard Sandoval planted one of his Toro Toro restaurants at the base of The Worthington Hotel in Fort Worth. It promises grilled meats galore in a vibrant atmosphere with playful pan-Latin flavor profiles. Ceviches, sweet corn empanadas and Brazilian-style Wagyu picanha steak are among its specialties.
Dish to try: The ribeye is a thing of beauty at Toro Toro, perfectly seasoned and hot off the open grill.
Tre Mogli
On the South Main side of the building from its sister restaurant Wishbone & Flynt, you'll find chef Stefon Rishel's newest Tre Mogli. The two-story restaurant space with its cozy Little Italy vibe is simply delish. The scratch-made Italian classics begin with some of the best focaccia you'll find anywhere, and many dishes can be ordered family style as well.
Dish to try: Rigatoni alla Vodka is tender and flavorful topped with fresh basil, pecorino Romano and a dash of cream in robust red sauce.
Water's – Fine Coastal Cuisine
Chef Anthony Felli executes brilliance at Jon Bonnell's seafood restaurant in Sundance Square known as Water's ― Fine Coastal Cuisine. The menu ranges from French Quarter favorites like the branzino prepared with crawfish and andouille sausage to Gulf Coast staples like the chilled shrimp and fresh redfish dishes. Of course, Bonnell's famous oysters Texafeller make an appearance too.
Dish to try: The Dirty Dozen takes oyster lovers on a trip to the best oyster beds anywhere. A unique variety of oysters are flown in fresh daily and come with tasting notes.
Wicked Butcher
The lavish basement level dining at the Sinclair Hotel never disappoints. The menu at Wicked Butcher is filled with elegant dishes from dry aged steaks to fresh seafood. The cocktails are classy and there's even a raw bar to peruse. For starters choose from the roasted bone marrow or Wicked eggs topped with a lacy parmesan tuile.
Dish to try: The hamachi crudo is an appetizer or a lunch all in one, served with a drizzle of Thai chili oil in anorange ponzu sauce.