Culture / Travel
How to Spend 72 Hours in Park City — Where to Stay, Eat, Drink, and Adventure
Using the Newly Transformed Montage Deer Valley as a 5-Star Luxury Base, There's Plenty To Do During the Fall Season
BY Megan Ziots // 11.13.23
Montage Deer Valley Resort just underwent a massive renovation of its accommodations and restaurants.
The Montage Deer Valley Resort lobby warmly welcomes visitors to the elevated Alpine escape.
Montage Deer Valley Resort is an incredible visit any time of year.
Guest rooms and suites were renovated by BraytonHughes Design Studio.
BraytonHughes chose textures, shapes, and furnishings that pay homage to the heritage of the area during all seasons.
Montage Deer Valley Resort offers a heated outdoor pool.
Montage Deer Valley revamped its signature dining concept, Apex.
Spa Montage includes a tranquil indoor pool to enjoy before or after your treatment.
Daly's Pub & Rec is a great spot at Montage Deer Valley for families as it includes games and a bowling alley.
Park City-based High West Saloon is a must-visit.
Harvest is a can't-miss breakfast and lunch spot in Park City. (Photo by Megan Ziots)
One of the best lasagnas you'll ever try is at La Stellina in Park City. (Photo by Megan Ziots)
This was a memorable tortilla soup. (Courtesy of Dos Olas Park City)
A popular activity near Park City is horseback riding. (Courtesy of Rocky Mountain Outfitters)
Although the fall season is not the most active in Park City, you always say yes when given the opportunity to visit the Utah mountain town. For my first visit to the state, I was excited for a change of scenery from the still-toasty Dallas area and embarked on a trip, landing 8,300 feet above sea level at Montage Deer Valley Resort. The area had just had its first snowfall, so when we arrived there was a light blanket covering the 16-acre hotel. Ski season doesn't begin until later this month, but we could still experience Park City (and Montage's new renovations) in a fun way.
Using the newly renovated Montage Deer Valley as our 5-star luxury base, we thoroughly explored the mountain town in 72 hours.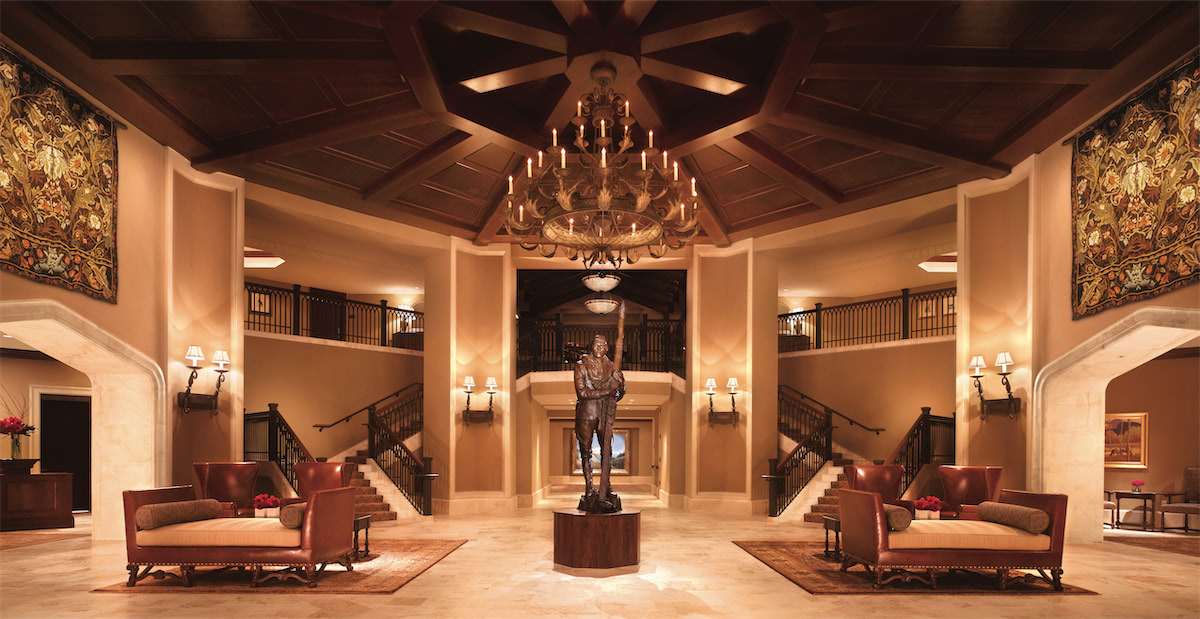 Montage Deer Valley Resort
Located in the Wasatch Mountain region, this 13-year-old, five-star resort just got its first major renovation of all its guest rooms, suites, and dining concepts. Completed by BraytonHughes Design Studios and Denton House Design Studio, both firms were inspired by the surrounding environment, history, and modernism of the destination that the resort resides in. Originally a mining town, Park City has transformed into one of the top ski spots in the world.
For guest rooms, BraytonHughes chose textures, shapes, and furnishings that pay homage to the heritage of the area during all seasons — including houndstooth fabric, wood, and leather strapped-framed mirrors, green sun print-inspired carpet, custom lamps inspired by rock formations, new artwork.
All of the dining concepts at Montage were also given an upgrade by Denton House. Signature steakhouse, Apex, melds indoor and outdoor spaces and creates a cozy environment with textured wall coverings. The more casual spot, Burgers & Bourbon, has been transformed with informal furniture, whimsical wall art, and a menu that features local artisans and farmers. Don't miss the turkey burger and truffle mac and cheese at these two restaurants which often share menus during the week. Two new concepts include Yama Sushi, with a design inspired by peaks and rivers in Japan, and Slopestream — an outdoor airstream eatery serving seasonal on-the-go bites, as well as beer and wine.
Spa Montage is a great escape for relaxation at the resort. Any hotel guest can enjoy the indoor pool or sauna, steam room, and hot tubs. Services include massages and facials, and there's also a hair salon on-site. We didn't get a chance to partake, but the fitness center also offers yoga, strength, and pilates classes each day.
Where to Eat and Drink
One of the most charming spots we stopped at in Park City was Atticus Coffee & Teahouse. A good place to work or just chat with a friend, this coffee shop doubles as a book and gift store. I indulged in the signature The Finch — a Cubano-style latte with raw sugar and cinnamon on top, but they also offer tons of teas, smoothies, and bites.
When we arrived in Park City, we immediately went to High West Saloon for lunch and a bourbon-based cocktail. From High West Distillery, this downtown spot is located in an old saloon building and serves a surprising menu of top-notch dishes. We enjoyed The Burger made with bison and bacon onion jam and The Schnitzel — an Iberian pork cutlet accompanied by caper and parsley vinaigrette. We also made the bar the last stop on our trip, as we had to swing back by to buy a couple of bottles of bourbon to take home.
A favorite local breakfast and brunch spot (as we were told by many locals), Harvest is an Australian-style cafe in downtown Park City. The coffee is perfectly crafted and the Buddha Bowl of Goodness (I got mine with poached salmon) is a stunner. The toasted paleo banana bread with a caramelized banana and honeyed ricotta is also a must-try.
If you're looking for Italian cuisine, head over to a new concept at the St. Regis hotel, La Stellina. We enjoyed one of the best lasagna dishes we've ever tried, as well as a delightful seasonal, pumpkin risotto and prosciutto/butternut squash pizza.
One evening, we also made the 20-minute drive over to Canyon Village's Pendry Plaza for a coastal California-inspired Mexican meal at Dos Olas Cantina. Along with a tasty signature margarita (always go with the signature), we were pleasantly surprised with a hefty portion of tortilla soup with pulled chicken which I had as my meal. Thankfully, this choice left room for the Tres Leches with horchata ice cream and fresh berries.
What To Do
Montage Deer Valley Resort offers several partnerships for outdoor adventures including its on-site Compass Sports activities center (mostly used for skiing in the winter and hiking, fly fishing, etc. in the summer). For this trip, I chose something I'd never done before, at least that I remember — horseback riding. I have a photo of myself sitting on a horse for Girl Scouts when I was a kid, but no memory of this excursion. The resort set us up with Rocky Mountain Outfitters at Soldier Hollow Stables in Heber Valley. We took a one-hour mountain-side ride, which was a bit scary as my horse Steve didn't seem to want to be trekking it up rough terrain that afternoon, but it was the highlight of my trip. Steve did well and our guide, Maisy, kept the experience fun and knowledgable. Plus, you couldn't beat the views.