Vetted Well at Alamo Drafthouse is a great rooftop spot to grab a drink before a movie.
Upside West Village, Canopy's rooftop bar, has an amazing view of downtown Dallas.
HG Sply Co. is the most popular rooftop bar in Lower Greenville.
Quarter Bar has a second level with a rooftop bar, pool table, and dart board.
This year's Ultimate Cocktail Experience will be at Harlowe MXM.
STIRR's rooftop bar in Deep Ellum is bright and fun. Courtesy of STIRR
It's no wonder Waterproof made the cut.
Gallery Rooftop Lounge at CANVAS hotel is throwing a Dipped in Gold party for New Years.
The Henry's outdoor bar area has space age heaters for winter.
Wits End in Deep Ellum is kind of kooky looking, but it's got great rooftop views of the city.
With summer fast approaching, the weather is warming up for some al fresco drinking. That is, if this spring rain apocalypse ever ends. Dallas has an abundance of great rooftop bars, but we've narrowed it down to our favorites.
Here are the 10 Best Rooftop Bars in Dallas for sipping, munching and enjoying the sunshine. Don't forget to wear sunscreen!
Upside West Village
2950 Cityplace W. Boulevard
Located on the 8th floor of the Hilton Canopy hotel in Uptown, Upside has an amazing view of downtown Dallas. The ambiance and seating are upscale. There's also a fireplace to cozy up to when it gets cooler at nighttime (during those winter months). With a great view of the sunset, this is the perfect place to have an al fresco drink.
The menu includes some fun flights, such as the Upside Flight with local craft beers and the Taste of Texas flight, assorted Texas whiskey. There are also many refreshing cocktails to choose from, such as the Ava Gardner with hibiscus vodka, lime juice and ginger syrup and Rita Hayworth with gin, aperol and grapefruit juice.
HG Sply Co.
2008 Greenville Avenue
This classic Lower Greenville spot has been a go-to rooftop spot for awhile now. And for good reason. It has one of the best rooftop bars out there. The bar has lots of colorful tables with strings of lights hanging above. It also has a covered, shady area if the sun becomes a bit much in the summer.
The roof menu includes a few food items such as HG chips & queso, bison chili frito pie, and ginger garlic hummus to munch on. More importantly, there are lots of drinks. Of course, you've got your beer, wine and ciders, but the cocktail menu is what's fun here. Experiment with a Double Under, a beet-infused pueblo viejo tequila, lime and rosemary turbinado drink. Or try a classic frozen Moscow mule.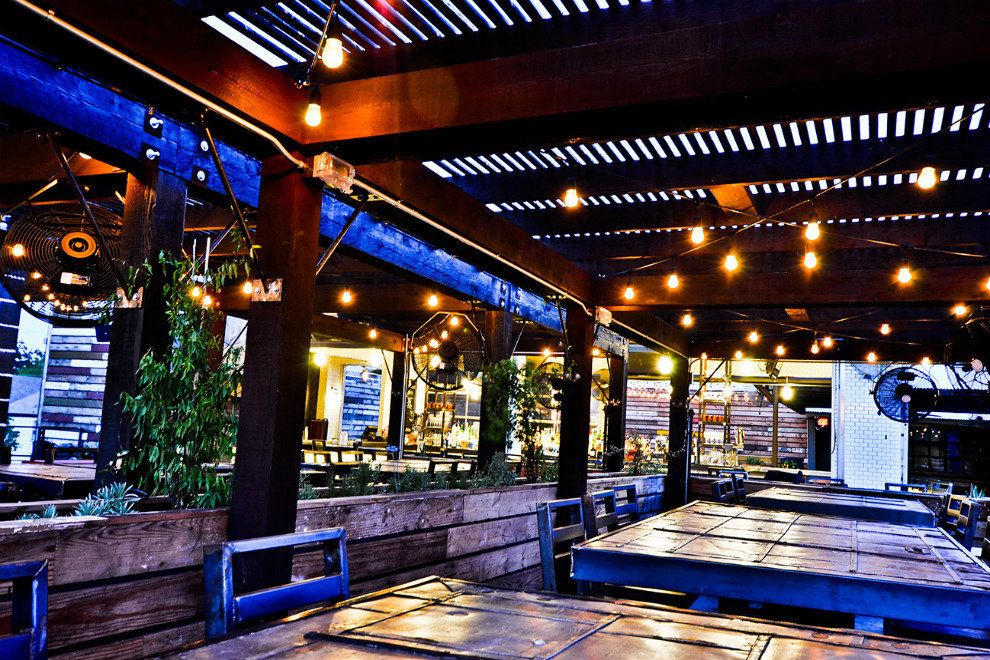 The Quarter Bar
3301 McKinney Avenue
This Uptown bar is attached to Bread Winners and features a lovely rooftop patio that really feels like you're in the French Quarter. Seating overlooks McKinney Avenue and is great for people watching on a Friday night. Quarter Bar also has a pool table and dart board on the inside of the second floor.
Specials vary every night and include $1.5 PBR Mondays, $2 off all Texas Tuesdays, $2 off all Whisky Wednesdays, Ladies Night & Happy Hour till 11pm Thursdays, and Hideaway Hour AKA Late Night Happy Hour until 11pm Fridays. So, lots of deals. They also have regular 'ole Happy Hour from 11 am to 7 pm on Mondays through Fridays.
Harlowe MXM
2823 Main Street
This Deep Ellum bar features a contemporary style rooftop bar that has great views with lots of space. There's live music on the rooftop from 8 pm to 11 pm on Saturdays and 4pm to 8pm on Sundays. Happy Hour is awesome for $5 a drink on Tuesday through Fridays from 11 am to 7 pm.
These drinks include house wines, frozen drinks, draughts and cocktails. Try out the Champagne Punch with vodka, elderflower, raspberry, blackberry, pomegranate and sparkling wine or the Old Cuban with rum, lime, mint, bitters and Brut Champagne. Harlowe also has a "Sin Brunch" on Sundays with mimosas and the Boilermaker, which is a Miller High Life Pony with a shot of rye or tequila.
STIRR
2803 Main Street, Ste. 110
Another Deep Ellum hotspot, STIRR also has an excellent rooftop bar. The design is fun and bright with a bar and comfy chairs. A self-proclaimed "approachable neighborhood restaurant and bar," the place is great for mid-day happy hour or night out with friends.
The drink menu is extensive, but I'm just going to list a few that pop out at me. Femme Fatale is  a refreshing mix of Grey Goose Strawberry-Basil syrup and lemon juice. The Blueberry Loca Mojito is frozen Pina Loca tequila with fresh mint and blueberries, white rum and simple syrup. And if you're looking to get crazy with a group, check out the Giant Mule, which is $150 worth of Moscow mule.
Waterproof
1914 Commerce Street
On the 19th floor of The Statler hotel, this downtown pool bar has stunning views of the city. It's a pool by day and rooftop lounge by night. It's a beautiful setting to catch some rays and have a few drinks on a summer afternoon.
Waterproof has a "Lemonade Stand" where you pick your booze and pair with a craft lemonade. Options consist of passionfruit, strawberry basil, white peach raspberry and cucumber mint. There's also froze with rose, elderflower and aperol. Wine and beer is also available by the glass, bottle or bucket.
Gallery Rooftop Lounge at CANVAS Hotel
1325 S. Lamar Street
This former SODA bar rooftop bar spot recently became Gallery Rooftop Lounge when CANVAS hotel took over NYLO. The views are still as stunning as ever though, and the new ownership has added an artsy twist. The Cedars location gives access to one of the most stellar views of downtown Dallas.
Grab a snack such as white bean hummus or sliders and one of the many artsy cocktails and sit by the pool for awhile. Cocktails include the Fresh Palette with Ford's Gin, Domaine De Canton Ginger, lime juice and Topo Chico. There's also the Tipsy Watercolor with Deep Eddy Lemon Vodka, sage, habanero syrup, blackberry puree and Topo Chico. And to mix it up each night, there's a different drinkable Artist of the Night each day of the week.
The Henry
2301 N. Akard Street, Ste. 250
This increasingly popular and brand new restaurant has made a name for itself as a top rooftop bar spot. Very aesthetically pleasing is the main word I would use to describe the exterior and interior. The rooftop bar and lounge is open late until midnight on weeknights and 1 am on Fridays and Saturdays. Happy Hour is Mondays through Fridays from 4 pm to 6 pm.
This place has got all the drinks. From all sorts of Champagnes to reds and whites and ales and lagers, The Henry has got options. Some of the unique cocktail choices are the Devil's in the Details with Tito's vodka, ancho reyes verde, strawberry, mandarin and blistered shishito peppers, and the Drunken Panda with cucumber sake, dragon fruit tea, calamansi and Chinese lager.
Wits End
2724 Elm Street
A funky spot for a concert or drink, this Deep Ellum spot has a great rooftop. You can also see The Green Room across they way that would probably make No. 11 on this list if there was a No. 11. Wits does gear towards heavy metal shows, as I learned the hard way, but it was still fun to check out the rooftop views beforehand.
The vibe is super grungy and hipster, and it's one of the coolest dive bars in the city. There's artwork all over the walls, including on the stairwell leading up to the rooftop. Drinks include all the drafts, bottles and cans, shots, and cocktails.
Vetted Well
1005 S. Lamar Street
Inside of Alamo Drafthouse Cinema in The Cedars, Vetted Well has another perfect spot to view the Dallas skyline. Grab a drink before or after a movie, or just 'cause. I just found out that they also have themed karaoke rooms from a space invader to pinball to funhouse room for $20 to $40 an hour.
Vetted Wall's unique boilermaker menu includes eight concoctions of beer and liquor. All named after Dallas classics, The Giant Eyeball has Laird's Bonded Apple Brandy & Community Mosaic IPA. The Red Pegasus includes Redbreast 12 yr. & Lakewood Temptress Stout, and The Grassy Knoll is a mix of Mellow Corn & Miller High Life Pony.