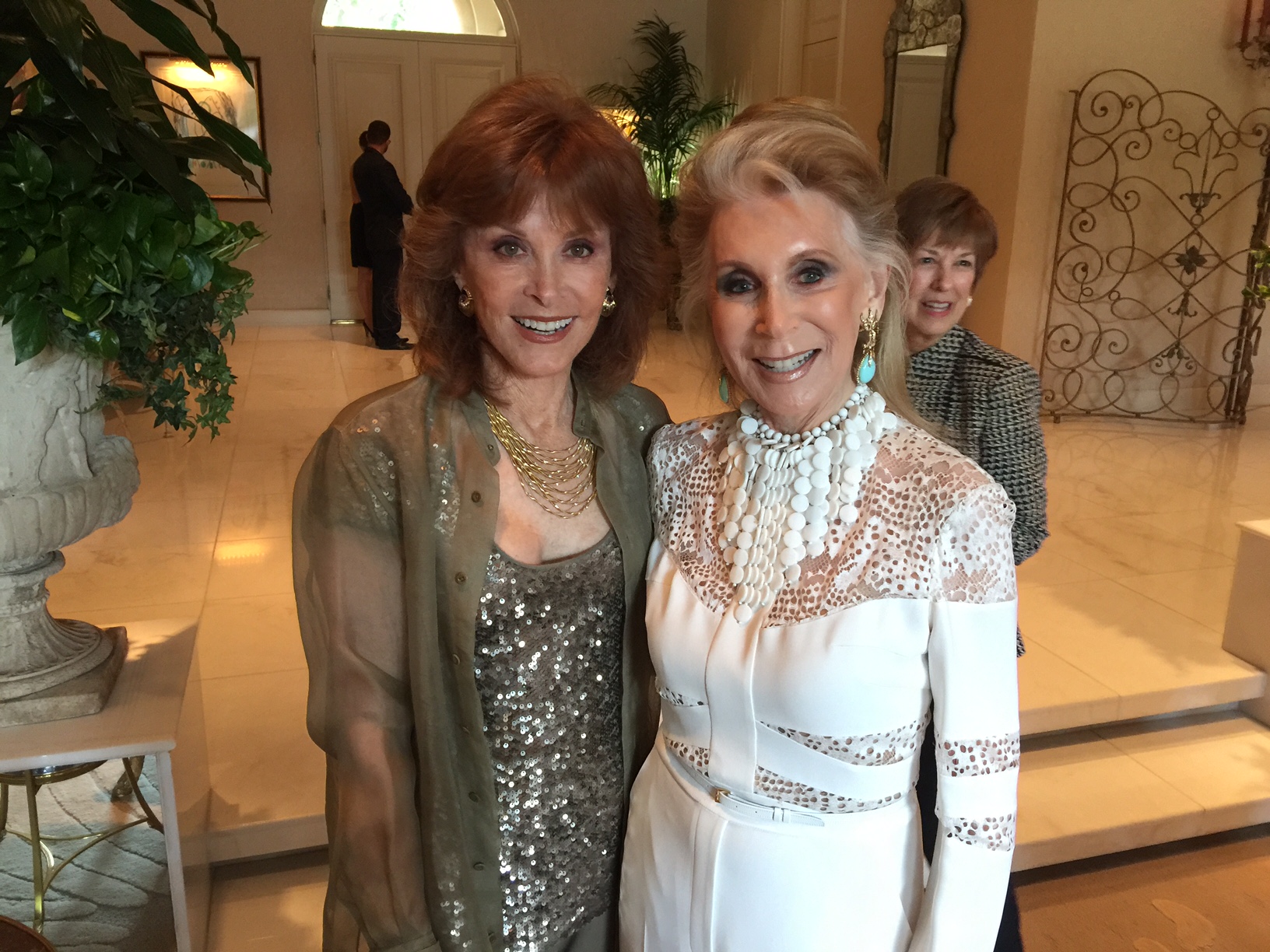 Stefanie Powers and Joan Schnitzer-Levy the night before the ESCAPE Family Resource dinner.
On her way to Kenya and back to work at the William Holden Wildlife Foundation, actress/producer Stefanie Powers stopped off in Houston to help her longtime friend Joan Schnitzer-Levy raise funds for ESCAPE Family Resource Center at the 36th annual Celebrity Serve Benefit. The night before, Schnitzer-Levy entertained Powers at an intimate cocktail party in her River Oaks home.
Powers looks incredible for her 74 years, practically a waif, fashionably dressed in evening pants, sequined top and sheer overblouse. While Powers claims to have given up acting, last fall she starred in 84 Charing Cross Road at the Cambridge Arts Theatre in Cambridge, England, and returns to England this summer for "an acting job." She spoke with a hint of a British accent, we assume the result of so much time in England and Kenya.
We had a few minutes with the star probably best known for the Hart to Hart television series. Between the rounds of waiters offering hors d'oeuvres and drinks (Powers declined, PaperCity posed a few questions of the woman who was the longtime romantic partner of William Holden, up until his death in 1981.
PaperCity: What are your plans next?
Powers: On Wednesday, I'm going back to Africa where I have a special interest in Kenya because of the William Holden Wildlife Foundation, which I started after Bill's death. We have a very busy schedule. We have an education center serving 11,000 students a year through our outreach program that deals with rural areas and centers on primary and secondary schools. We get the parents involved and  propagate the faith as we like to say. We are teaching biodiversity and alternatives to habitat destruction — for humans and ultimately animals. So it's the educational component of the foundation.
PC:  What are you doing on the Hollywood or acting front?
Powers: I'm going back to producing. I have two projects in the pipeline. I've written a concept and I'll be producing . . . They're human interest programming.  And then, this summer, I'll be doing a film in England. This is an acting job. I can't tell you about it because I just read the first draft today and I don't want to jinx it.
PC: Are you still playing polo?
Powers:  Yes, I play with a group of friends. I'm getting a little long in the tooth to play. We play for fun. We play a sort of seniors game for fun. We all still want to enjoy the competition but we're not as fast as we were nor are we as rough as we were.
PC: Did you ever play in Houston?
Powers: Oh yes. And it's great to be back in Houston. I used to come here to play at the Houston Polo Club. I have lots of friends from that club and wonderful memories. Sadly, a lot of people are passing along these days. I've lost some of my good friends but I certainly have a wonderful friend in Joan.