FROM A HOTEL CARVED OUT OF A VOLCANIC ISLAND IN THE AEGEAN SEA TO NANCY LANCASTER'S BUTTER-YELLOW DRAWING ROOM, THE OLIVETTI SHOWROOM DESIGNED BY CARLO SCARPA IN THE LATE '50S, AND AN ACHINGLY CHIC PARIS APARTMENT CREATED BY HENRI SAMUEL, DALLAS DESIGNERS RIFF ON THE ROOMS THAT INSPIRE THEM MOST.
GONZALO BUENO, TEN PLUS THREE
IKATIKIES HOTEL, SANTORINI
I love the Katikies Hotel in Santorini, an island in the Aegean Sea. It's built inside a volcanic island — even the rooms. It's the coolest thing! All the walls and floors are built around the caves inside the island. It's a very organic design, with the purest of all-white hues. My bathroom felt like a white cave with the most breathtaking view of the ocean, where a small rock has a small altar, and all the boats race to watch the perfect sunset. When I'm there, I feel like I can imagine and design anything I want.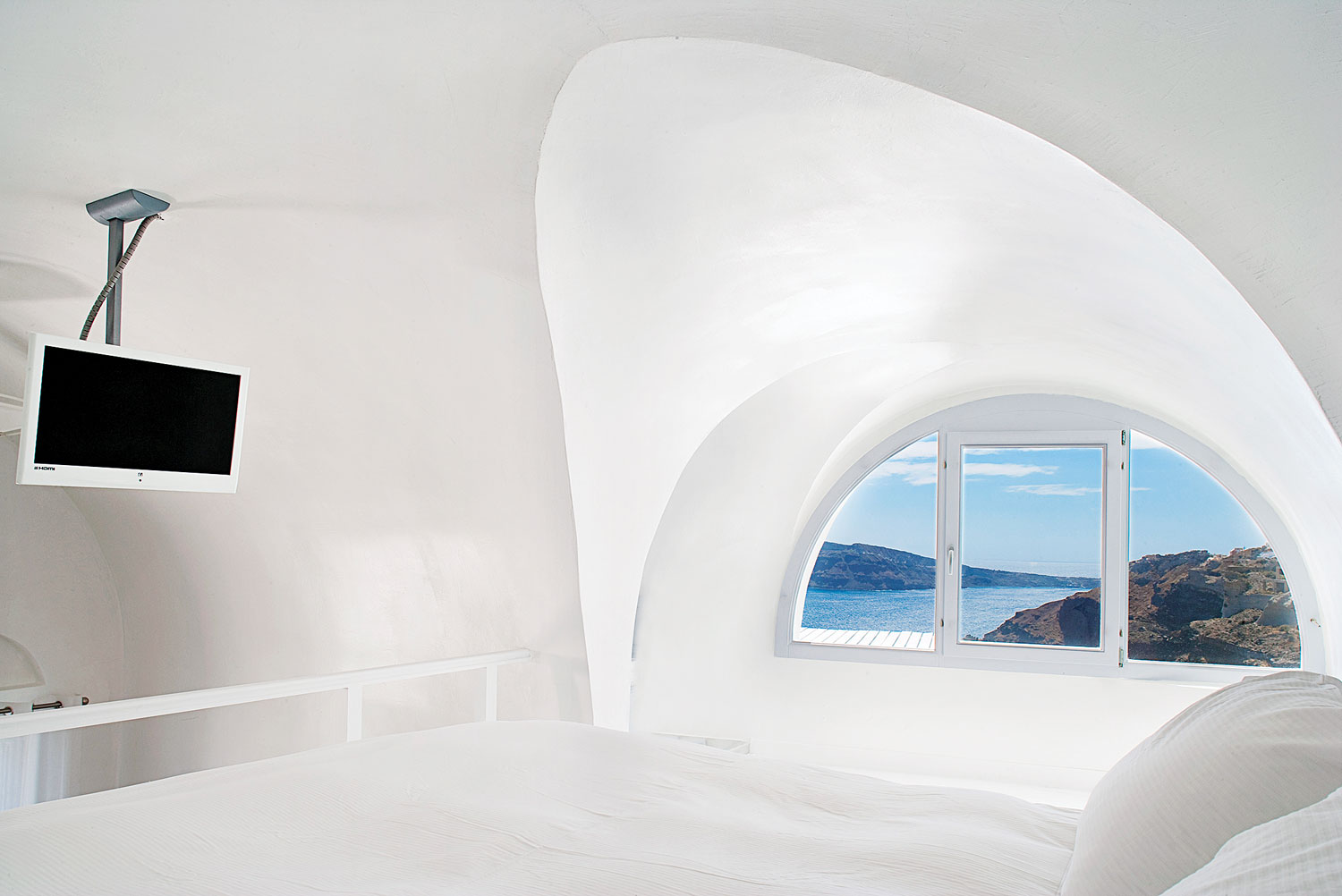 ---
CYNTHIA COLLINS, COLLINS INTERIORS
TUPPER EAST SIDE APARTMENT, NYC
This room makes me tick. I grew up with the owner, Jenny Laird, and have long admired her Upper East Side apartment in NYC. I love that it's a large space with multiple vignettes and seating areas. Jeffrey Bilhuber made the room easy to host many people simultaneously or small numbers of guests, all very comfortably in such a large room. He used the tall walls to his advantage by running a large series of photographs vertically. Everything is collected, curated, purposefully mismatched. Rarely do you see symmetry, but it's balanced. The four-story apartment was built originally in 1870, so there are small wall sconces throughout the property to low-light the rooms, with custom deep-colored silk shades on every lamp. Bilhuber never uses the go-to "white drum shade"; the shades throughout the home are works of art — corded, pleated, tucked, and lined in contrasting silks. The handwork that goes into just one is inspiring.
---
JAN SHOWERS, JAN SHOWERS & ASSOCIATES
LIVING ROOM OF THE MAISONETTE OF RENEE AND MARK ROCKEFELLER, NYC
The living room of the maisonette of Renee and Mark Rockefeller is in one of the stunning Rosario Candela buildings in New York, and was previously owned by Pat and Bill Buckley. To say that it has great bones is putting it mildly! This particular room struck me because I knew it contained so many pieces that were done by Jean Michel Frank, Giacometti and Picasso for the legendary Nelson Rockefeller apartment on Fifth Avenue in the late 1930s. Renee Rockefeller and her designer, Daniel Romualdez, created a luxuriant room — faux-suede walls with ivory and bone-colored upholstery throughout, that is sumptuous, warm and inviting. The Picasso tapestry definitely creates drama and takes center stage, but somehow doesn't overpower the room. There has been so much color around for the past decade that this room looks fresh, modern and very cool to my eye at this particular moment. It also reminds me very much of another designer whose work I have long admired, Syrie Maugham — one of the greats.
---
EMILY SUMMERS, EMILY SUMMERS DESIGN ASSOCIATES
HÔTEL PARTICULAR ON RUE DU FAUBOURG SAINT-HONORÉ, IDECORATED BY HENRI SAMUEL
I have long admired the sophistication of the rooms created by the French master decorator Henri Samuel … for the legendary hôtel particular on rue du Faubourg Saint-Honoré (1970s). He was the first to embrace contemporary craftsmen like Philippe Hiquily, Guy de Rougemont and the Lalannes in the '60s and '70s and to integrate fresh, unexpected functional forms into traditional Parisian apartments boasting priceless antiques. He was fearless with color, using oranges and chartreuse as easily as white and grey. The fabulous Balthus painting in this apartment lifts off the orange silk wall. The painting must have influenced the palette — the charcoal velvet and the cream carpet. He challenged designers to embrace a more diverse mix of furniture, objects and art and, in doing so, influenced the next generation of designers.
---
BRECK WOOLSEY, BRECKENRIDGE/TAYLOR DESIGN
VILLA PLANCHART BY GIO PONTI
Villa Planchart in Caracas, designed by Gio Ponti (1953–1957), is a place that I keep coming back to for inspiration. While you might not look at it and say, 'That's my style and that's what I do,' I adore the way he hasn't left a single thing untouched. The artistry on the floors and ceilings, to the custom light fixtures that command your attention. Everything is special, and you don't feel it's overdone. It's still as fresh and modern today as it was when he designed it.
---
LAURA HUNT, LAURA HUNT DESIGN & DECORATION
LONDON DRAWING ROOM DESIGNED BY NANCY LANCASTER AND JOHN FOWLER, 1957
There are so many rooms I covet from different periods. However, for years I have been intrigued by the work of Nancy Lancaster, who is responsible for creating what is known as the English country house style. At this juncture, I am having more clients requesting lived-in rooms with color that are comfortable … not perfect. For me, Nancy Lancaster's drawing room, designed with John Fowler in 1957, and painted in a rich buttercup yellow, is still as stunning as the first time I saw photographs decades ago. I would still consider it one of the most celebrated rooms of all time. Oddly, I have never painted a room that rich yellow, but for me it remains extraordinary. To think Lancaster had to move into the apartments above the Colefax & Fowler shop on Avery Row at Brook Street in Mayfair to shore up her finances … The room consisted of double doors at both ends and a barrel-vaulted ceiling — the whole, measuring 46 foot long by 14 foot high. The ceiling was painted off-white, mirrors were added to the door surrounds to enhance the height, and festoons were painted above the (also painted) marble cornice. Furnishings came from the store and from her own reserves, and the room was always full of beautiful bouquets of fresh flowers. However, the yellow walls were the room's crowning glory.
---
JOSHUA RICE, JOSHUA RICE DESIGN
OLIVETTI SHOWROOM, DESIGNED BY CARLO SCARPA, VENICE
I can't think of any room more inspiring than the Olivetti Showroom designed by Venetian architect Carlo Scarpa in the late '50s. The space is simultaneously serene yet teeming with architectural and design details so impeccably considered that they both comprise and compose the space. Large structural details transition fluidly and rationally into the smallest, almost trivial component. There is not a single square inch (or centimeter) that is unconsidered. Scarpa had a way of turning architectural minutia into something magical.
---
DONIPHAN MOORE, DONIPHAN MOORE INTERIORS
MCONNAUGHT BAR AT THE CONNAUGHT HOTEL, LONDON
My favorite room is the Connaught Bar at the Connaught hotel in London. I just love this space — it's layered with luxe materials, marbles, metals and is absolutely beautiful in person. The walls have been hand-painted with a graphic pattern, they used green lacquer on the bar, and the metal work and mirrors are stunning. It's a magical space. Sexy, sultry and completely captivating. David Collins was a genius. Oh, and if you ever have the chance to visit, don't miss the martini trolley!