Restaurants / Lists
Houston's 10 Best New Restaurants — the Hotspots of the Season
Where to Eat Right Now in H-Town
BY Annie Gallay // 11.20.19
Soulful Italian cuisine has found its way to the C. Baldwin.
Traveler's Table is a cornucopia of globally inspired eats.
The food at Traveler's Table was inspired by the owner's jaunts across the world.
Rosalie Italian Soul is light and bright.
The Annie Cafe & Bar is Benjamin Berg and Robert Del Grande at their absolute finest.
The cocktails at The Annie Cafe & Bar are next-level.
Trill Tacos are bursting with flavor.
The tacos at Trill come with all kinds of savory sauces.
District 7 has a killer happy hour.
District 7 has opened on Memorial Drive.
Los Tios is a treasured Space City star.
Can you say street tacos?
Eugene's Gulf Coast Cuisine's can be enjoyed in the dining room beginning Friday.
Eugene's Gulf Coast cuisine is big on local ingredients.
Tejas Burger Joint comes from the masterminds behind Tejas Chocolate Craftory.
The patties are meaty and tender, placed lovingly between potato buns.
Editor's note: The Houston restaurant scene is constantly changing, with new hotspots, must-try places and major food events coming along on a daily basis. Even the most dedicated foodie can have trouble keeping up. Don't worry, PaperCity has you covered.
We may not have much of a fall in Texas, but the seasons are certainly changing — and with it, the Houston restaurant scene. Just look at the last cold snap. It may have caught you off guard, but don't worry. There are plenty of hot new restaurants in Houston to warm you right up. And the craft cocktails at some of these locales definitely won't hurt.
This isn't just a month for daring, soulful newcomers specializing in Italian, tacos and beyond. You'll also find reimagined icons, barbecue experts branching out and even inspiring new restaurants opening up in the space of shuttered legends.
Rosalie Italian Soul
The C. Baldwin is finally open, drawing visitors to hotel suites and its new Italian restaurant. Chef Chris Cosentino, culinary compadre of none other than Chris Shepherd, and Top Master Chefs winner has made his Space City debut in style.
Rosalie Italian Soul, named for Cosentino's dear great-grandmother who emigrated to the U.S. from Italy, is the celebrity chef's ode to his upbringing, done in a 1970s-tinged set-up.
You can expect classics like chicken Milanese, four cheese pizza cooked lovingly in a gas pizza oven, eggplant parmesan generously sauced with Sunday gravy and even some nods to Houston itself, like the fra diavolo pasta with Gulf Coast shrimp.
The Annie Cafe & Bar
Meat master and restaurateur Benjamin Berg has completely reimagined the iconic Cafe Annie. Robert Del Grande's baby has fully bloomed into an unrecognizable work of art, designed in the vein of New York City, plus some Texas for good measure.
Not convinced? Look no further than the Ralph Lauren Polo-inspired bar.
Looking out over the hustle and bustle of Post Oak Boulevard, the The Annie Cafe & Bar's digs are playful and refined, with palm trees, birds of paradise, steel-clad windows and white-washed brick walls.
The food is as eye-opening as the ambience. American-Southwestern food is on full display, from the lobster BLT to bacon-wrapped quail and hearty rabbit pot pie. Don't forget the jalapeno cheddar grits.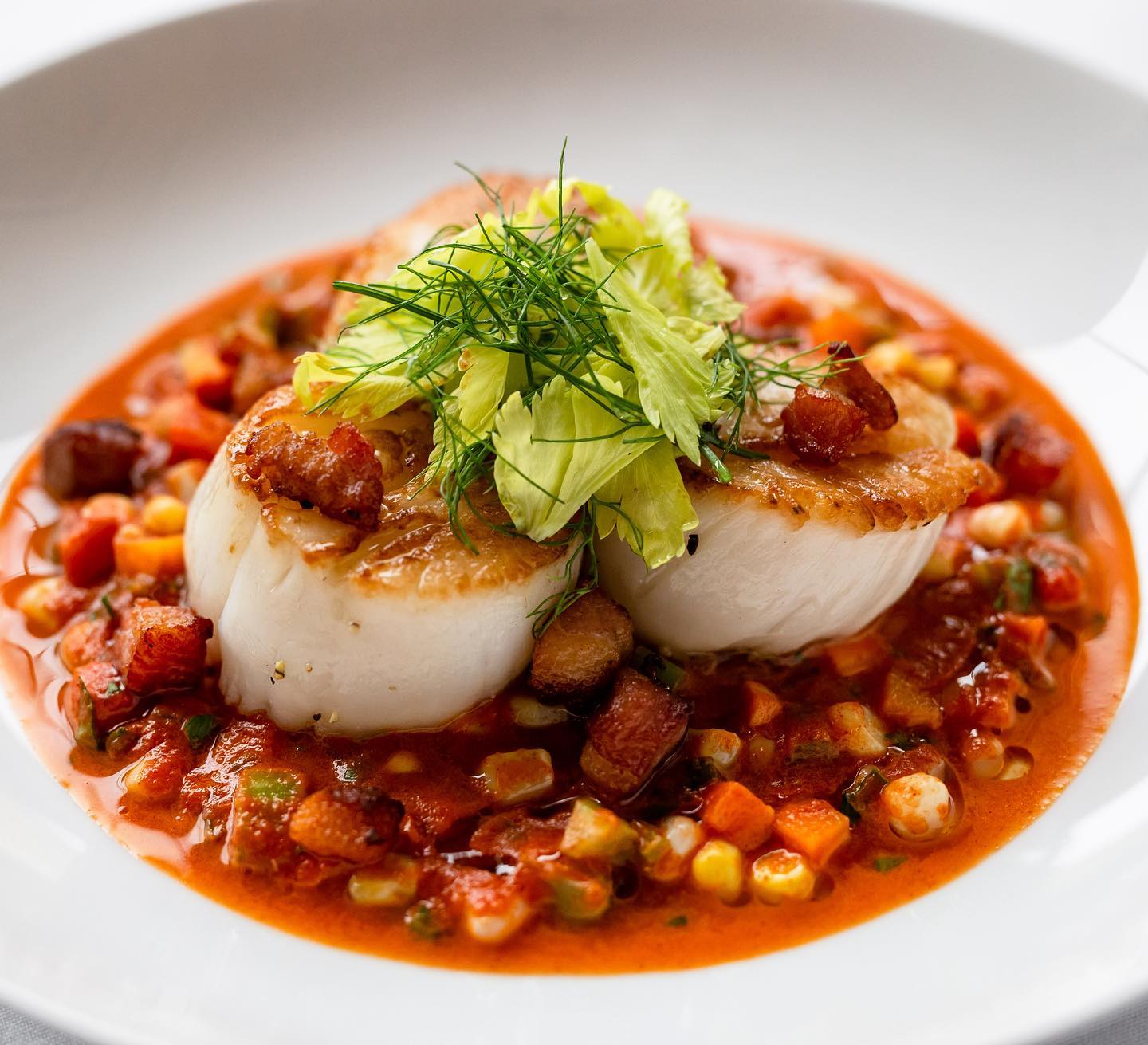 Eugene's Gulf Coast Cuisine
Cafe Annie's not the only restaurant that's been totally revamped. Seafood haven Danton's Gulf Coast Seafood & Steaks closed  and recently relocated to the old Mockingbird Bistro space in Montrose under a brand new name.
The Creole-centric Eugene's Gulf Coast Cuisine is now taking shape. Named for owner Kyle Teas' father, Eugene's is nostalgia central with antique mirrors, plus an array of vintage family photos.
Any Danton's fan will recognize the food, from shrimp or Crab Kyle with lemon-garlic butter sauce to Crab Madison with green onions and parmesan cheese.
Traveler's Table 
Come enjoy all the globally inspired eats on the road less traveled at Traveler's Table. The eclectic eatery is known for its international fare, inspired by owner, gourmand and former journalist Matthew Mitchell's extensive globe-trotting.
Tuck in for a tour of the continents with menus that are divvied up regionally — beef cheek ravioli and butter chicken in "India and The Mediterranean," soft shell crab pad Thai and Sichuan-cumin lamb in "The Far East" and classics like cheeseburgers in "The Americas."
Traveler's Table has taken over the space formerly occupied by the controversial Aqui restaurant. Gin Design Group spiced the space up, giving plenty of refined room for diners throughout the restaurant and on the expansive patio. But the best seat in the house is at the Traveler's Table itself, a community-style arrangement that harkens back to the days of caravans and spice traders cavorting across borders with their goods.
Tejas Burger Joint
Tomball's tastier than ever. The Tejas Chocolate Craftory — No. 6 on Texas Monthly's list of the overachieving Top 10 Barbecue Joints in Texas —  owners have outdone themselves with Tejas Burger Joint.
It's safe to say they know their way around meat. Eight different burgers make up the menu, perfectly grilled patties sandwiched between locally baked potato buns.
The Native Texan is a love letter to the Lone Star State, with ranchero sauce, adobo guacamole and poblano mayo. The Caesar Burger has Caesar dressed salad on top, and you can get a traditional burger in either single or double size.
Trill Taco
Tantalizing tacos await in Missouri City. Trill Taco dove right onto the thriving Texas taco scene with a selection of tacos bursting with flavor.
The overflowing fillings include carne asada, grilled fish, grilled chicken, marinated steak and even a jackfruit option for the herbivores out there.
Sauces are standouts too, from vegan-friendly cashew queso to barbecue sauce. The favorite taco of the moment is definitely the Sweet Jones, tender and crispy fried chicken slathered in honey butter sauce.
District 7 Memorial
Shelley and Babak Ellham, the masterminds behind spots like District Tacos and Pizza and District 7 Grill, have brought some of their magic to Memorial Drive. District 7 Memorial opened just this month.
The restaurant promises views of Terry Hershey Park from its expansive patio. It's the perfect place to nosh on crawfish beignets, grilled oysters, pork osso buco and more.
If you can't resist happy hour, this is the spot for you. Think $7 margaritas, $5 draft beers, $9 boiler makers and a bevy of bites like rosemary tequila wings for $9.
Politan Row
There's a new entry in the everlasting avalanche of chef-driven food halls in Houston. Politan Row has finally opened its doors in Rice Village. This boisterous cafeteria-style treasure boasts everything from Nikkei to Ovaltine soft serve.
Politan Restaurant Group, the mavens behind St. Roch Market in New Orleans and a multitude of food halls across the country, moved into Houston in a big way with nine different ultra-satisfying options tucked under one roof.
Imagine an innovative Indonesian coffee shop backed by Greenway Coffee, a Southeast-Asian mecca with curries galore, Peruvian-Japanese fusion and a signature bar serving up an Agave-centric menu of craft cocktails.
Los Tios
Tex-Mex fans rejoiced with the news that Los Tios was making a tantalizing move to Tanglewood. It set up shop in the old 6,000-square-foot Ciao Bello space on San Felipe, the fifth and largest outpost of Adair Concepts' Tex-Mex mania.
All the old-school classics Los Tios has mastered over five decades are in full force, from cheese enchiladas to tacos al carbon, chicken tortilla soup, chile con queso and cheese taquitos.
But you'll find some fun new twists on these classics, like an ever-expanding tequila menu. After all, Los Tios may be responsible for introducing The Bayou City's very first frozen margaritas in 1975. Brain freeze aside, Houston was never the same.
Gen Korean Barbecue House
This widespread barbecue hotspot finally made its way to Clutch City. You'd better believe in boldness if you take on a dish at the authentic-meets-contemporary Gen Korean Barbecue House. This isn't the kind of place you hit up if you don't have a hearty appetite.
Champions of carnivores everywhere, Gen offers a mix of marinated and non-marinated meats, depending on your liking. Premium steak, beef belly, pork bulgogi, cajun chicken and spicy baby octopus are only the beginning.
As with any of these trendy Korean barbecue spots, the succulent meats or veggies get grilled right at your tabletop. Talk about an interactive dining experience.