Restaurants / Lists
Dallas' 10 Best Taco Spots — From Proven Standouts to Hidden Finds, This is Your Guide
Let's Taco 'Bout It
BY Megan Ziots
El Come Taco offers adventurous taco options.
Revolver Taco Lounge has a baby goat taco.
Taco Heads started as a food truck in Fort Worth and is now a trendy spot on Henderson.
Tacos Mariachi recently opened a second location in Lower Greenville.
Chef Andrew Savoie of Resident Taqueria creates chef-driven tacos in Lake Highlands.
Austin-based Tacodeli has brought two taco shops to Dallas, at The Hill and West Dallas.
Taqueria La Ventana makes authentic, no-frills tacos.
Velvet Taco creates some delicious gourmet tacos.
The new TacoLingo offers a cheeseburger taco, as well as the classics.
In Dallas, it is extremely tough to narrow down the best taco spots in the city. There are so many good ones and Dallas taco lovers are known for standing by their favorites. Even my roommate and I argue about what is best every time I bring home Velvet Taco, which is about twice a week.
I'm obsessed with Velvet, she doesn't get it. Tacodeli and Torchy's are her favorites. But that's all good, because everyone is entitled to their own taco taste.
This is one stab at Dallas' 10 Best Taco Spots. Disagree with the selections by leaving a comment. Taco 'bout it!
Revolver Taco Lounge
2701 Main Street, Suite. 120
This Deep Ellum spot opened in 2017 in a small space with just 49 seats. Since then, it's made its way to a permanent spot on the lists of best tacos circulating around Dallas. Owned by Regino Rojas, the corn tortillas are house-made and fresh as can be. Tacos are served on simple, single-colored plates, highlighting what really matters.
The al pastor is the must-try here. It has fire roasted marinated pork shoulder, grilled pineapple, onion, cilantro and salsa. They also do a duck taco with caramelized onions, roasted poblano pepper and salsa called pato, a lamb taco with chipotle salsa and garlic parsley yogurt on pita, and a Wagyu beef taco.
For $8 you can try the Imported Monterey Cabrito, as seen on Bizarre Foods America, which has baby goat, oven roasted Michoacan-style birria, onion, cilantro and salsa.
Taco Heads
1921 N. Henderson Avenue
Starting as a food truck in Fort Worth, this taco spot expanded to a restaurant in Dallas last summer. The trendy Henderson location offers good vibes to sit down and have happy hour or a meal. There are also $5 margaritas on Mondays.
Taco Heads serve breakfast tacos all day and have signature and traditional style tacos. Traditional favorites include the carnitas with green cabbage, onion, cilantro and queso fresco — and Mama Castillo's chicken with pico and queso fresco. A popular signature taco is the garlic cilantro gulf shrimp with purple pickled slaw, onion cilantro, lime zest and queso fresco.
The bourbon black beans with sweetcorn chips as a starter is also delicious.
Tacos Mariachi
2018 Greenville Avenue & 602 Singleton Boulevard
A West Dallas gem, well-known for being on Guy Fieri's on Diners, Drive-ins, and Dives, Tacos Mariachi opened up its second location in Lower Greenville last December. On the show, Fieri tried the pulpo taco, which is a grilled marinated octopus with asadero cheese and avocado on a corn tortilla.
This taco shop has a ton of other funky tacos, as well as traditional carnitas, pollo al pastor, or barbacoa. There are also gourmet options, such as smoked salmon and the campechano with carne asada, sauteed shrimp, avocado and pico de gallo. Get a side of Mexican street corn and a Frozen Mariachi Rita and you're all set.
Resident Taqueria
9661 Audelia Road, Ste. 112
Located in Lake Highlands, this Mexican restaurants serves some of the most unique tacos in Dallas. Resident Taqueria's New York-native chef Andrew Marc Savoie moved to Lake Highlands without a taqueria in sight, with a goal of opening his own restaurant. He opened Resident Taqueria in 2015.
The menu offers chef-driven concoctions with a down-home vibe. Meat-based tacos include the pecan smoked chicken, which has pickled sofrito, crushed peanuts and salsa macha, braised beef short ribs with onion, tomato confit and chipotle crema, and Resident braised pork shoulder with pineapple, cabbage and guajillo. Veggie options are a slow cooked mushroom taco, with poblano, queso and almond salsa, and the caramelized cauliflower taco, which has kale, pepita and lemon epazote aioli.
Tacodeli
1878 Sylvan Avenue & 8031 Walnut Hill Lane
This Austin-based taco joint opened its first location in 1999. The founder, Roberto Espinosa, grew up in Mexico City and fell in love with the flavors of the taqueria. Years later, his childhood memories mixed with Austin's friendly vibe to inspire Tacodeli's menu. There are now two locations in Dallas, at The Hill and West Dallas.
Here, the menu is vast, but that's what makes Tacodeli stand out. There are options for everyone. The Frontera Fundido Sirloin is great for beef lovers, the El Conquistador is for those who love pork, and the Papadulce is a great veggie option. Breakfast tacos are available weekdays from 7 am to 11 am and all day on weekends.
A popular choice is The Jess Special, which has migas, avocado and cheese.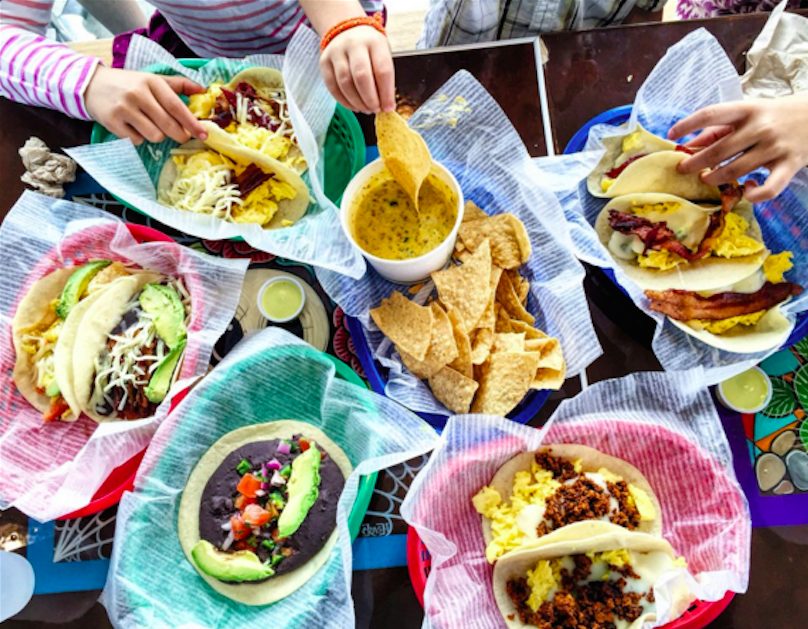 Taqueria La Ventana
3847 Cedar Springs Road, 1611 McKinney Avenue, & 920 S. Harwood Street (Suite 140)
Known for its funky and casual vibe, this taqueria offers everyday Mexican street tacos. White corn tortillas and fresh salsas are handmade everyday. There are three Taqueria La Ventana locations in Dallas, including one at the Dallas Farmers Market so take your pick for lunch or dinner.
The menu offers over 10 meat and veggie options. Taco meat choices include steak, chicken, pork, carnitas, shrimp, beef tongue, barbacoa and brisket. Pair with a side of guacamole or elote. Breakfast tacos are served all day, as well.
El Come Taco
2513 N. Fitzhugh Avenue
Established in 2013, El Come brings the roots of Mexico City to Dallas, serving traditional tacos. Located in the Henderson area, the counter service taco shop offers so many taco options. From meat lovers to more adventurous tacos, such as the sesos, veal brains, taco, there's something to eat for whatever mood you're in.
Speciality tacos to try are the gringas with pork, cheese, pineapple, cilantro and onions, the torta del chavo with ham, head cheese, muenster cheese, tomatoes, jalapenos, onions beans and mayo, and the torta taqueria, which offers your choice of pastor, chorizo, chicken or beef with cilantro and onions. They also used to have a grasshopper taco, which would definitely be a fun try if it makes a comeback.
Velvet Taco
3012 N. Henderson Avenue & 3411 McKinney Avenue
As my favorite, I had to include Velvet Taco. Personally, I like the slow-roasted angus brisket and annatto shredded pork tacos. The brisket taco is barbacoa style with red chile mayo, avocado relish, queso blanco, micro cilantro and comte cheese. All of that comes in an encrusted flour tortilla. It's one of the best things I've ever eaten.
Tacos are divided into categories by meat. The spicy tikka chicken is a unique Velvet taco with crisp chicken tenders, spicy tikka sauce, buttered cilantro basmati rice, raita crema and Thai basil. For brunch or late night runs, the chicken & waffle taco is another great option and one I've consumed many times. It has chicken tenders, peppered bacon, peppercorn gravy, green apple slaw, maple syrup, red chile aioli, chives; all wrapped in a waffle tortilla.
TacoLingo
2301 N. Akard Street, Ste. 207
This new taco joint just opened up at The Union in Uptown and its already gaining some hype. The happening new area also includes The Henry, Tom Thumb, Creamistry, and The Christopher apartments. TacoLingo describes itself on its website as "set against raw + industrial and natural materials, warm lighting, and a lively, comfortable atmosphere." What better place to eat some tacos?
The cheeseburger taco is what stands out on the menu. It has Wagyu beef burger, black pepper bacon, American cheese, fancy sauce, pickles, lettuce and tomato. There's also Buffalo taco with crisp tenders, buffalo sauce, blue cheese, avocado ranch, celery, carrots and cilantro.
Of course there's chicken, pork, veggie and shrimp tacos as well.
Chilangos Tacos
10777 Harry Hines Boulevard, Ste. 130
This is another brand new spot that just opened in North Dallas. It's a Chingona Mexico City taqueria transported to Dallas. It was created from the idea of going back to the basics and offering the most natural ways to serve tacos, as if you were in Mexico.
The menu has everything from al pastor to hongos and you can even ask for a surprise off menu taco. Carne asada tacos are another favorite, along with barbacoa. They also have ice cold Jarritos of many different flavors and horchata to wash all those tacos down.