Restaurants / Lists
Dallas' 10 Best Breweries — From Deep Ellum to White Rock, Get Your Brew On
This City's Beer Scene is Underrated — and one of the State's Best
BY Megan Ziots
Deep Ellum Brewing Company is a Dallas institution.
Four Corners Brewing is a fun place to hang out.
Community Beer Co. celebrates 7 years of brewing.
Braindead Brewing has tons of space to play games, watch shows and drink beer.
A flight at Trinity Cider is a good way to try them all.
Lakewood Brewing Company has a dog-friendly beer garden.
Peticolas Brewing is home to the Velvet Hammer. Courtesy of Peticolas
Bishop Cider Company has two locations to drink cider: a Tasting Room and Cidercade. Photo by Kathy Tran
Texas Ale Project has a tap room, beer garden, and event venue.
White Rock Alehouse & Brewery has tons of brews and bites.
Dallas has one of the best beer scenes in Texas. From breweries to cideries, the city has it all. With so many places brewing great IPAs, Lagers, Pilsners and pale ales, it was tough to narrow down a list of Dallas' best breweries to only 10. Some places have board games, cycling teams, or free brewery tours to make them stand out from the rest. But ultimately, they must have great brews.
Here are Dallas' 10 Best Breweries:
Deep Ellum Brewing Company
2823 St. Louis Street
Neato Bandito, Dallas Blonde, Dream Crusher and Easy Peasy IPA. These are just a few of the great tasting, and expertly named, beers that Deep Ellum cooks up at its brewery.
Founder John Reardon opened the spot on 11/11/11 and recently expanded to a second location in Fort Worth, called Deep Ellum Funkytown Fermatorium. To go with a flight or a pint, the Deep Ellum Taproom & Kitchen also serves a full menu of snacks, pizzas, sliders, wings, sandwiches and tacos.
It's also fun to try out the rotating, seasonal beers, such as the Oak Cliff Coffee Ale, a dark brown coffee infused ale, or Deep Summer, a summer ale with spices.
Tours take place every Saturday from noon to 3 pm and cost $15. Purchase tickets here.
Four Corners Brewing Company
1311 S. Ervay Street
This is a fun place to go spend a weekend afternoon. You can grab a board game or play ping pong, while trying out some beers. Brews range from the Heart of Texas red ale to Local Buzz honey-rye golden ale. The El Chingon is also a popular IPA. The limited release for this month is Queen Bee grapefruit saison.
Founded by three friends, George Esquivel, Greg Leftwich and Steve Porcari, Four Corners Brewing has won a number of awards since 2012. It will also soon be expanding its distribution to Southern California. In 2020, Four Corners will be saying goodbye to the iconic topless, 360 degree cans they used to have.
Free tours take place on Saturdays at 2 pm.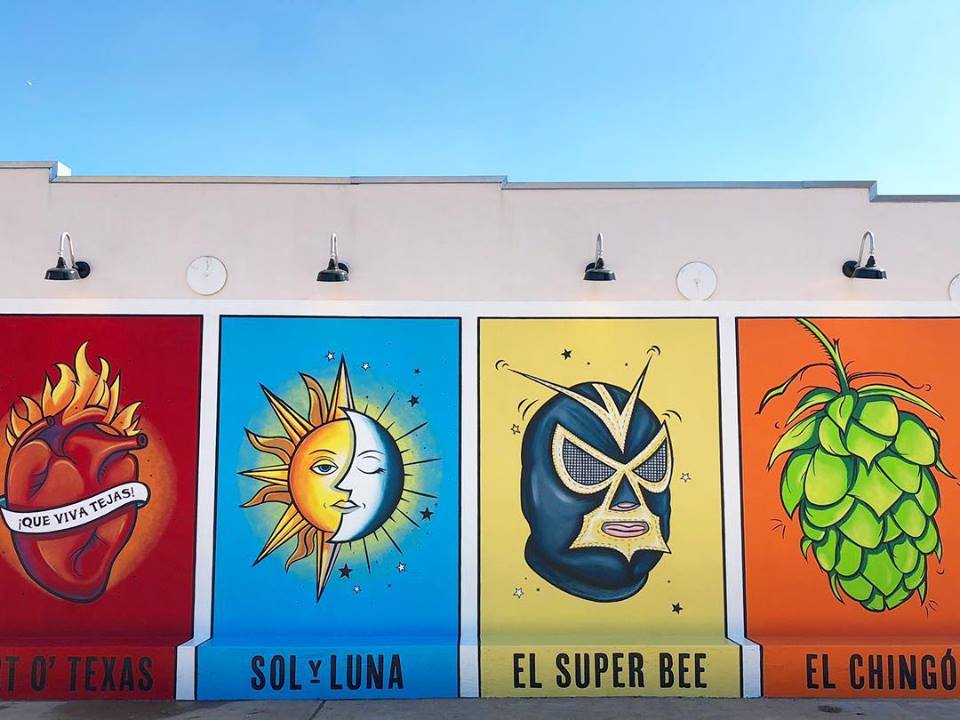 Community Beer Company
1530 Inspiration Drive
Located in the Design District, Community Beer Co. is a large brewery. The Mosaic IPA India pale ale is a favorite, along with their Texas lager. Other core beers, available year round, are Witbier, a Beligan-style white ale, Silly Goose, a fruited wheat beer, and the new Citra Slice.
Tours of the brewery are Saturdays from 2 pm to 5 pm and Sundays from 12 pm to 6 pm.
A fun fact about Community: this brewery has its own Community Beer Co. Cycling team. This is a group of beer loving cyclists who ride together on one Sunday a month. They divide up by level, whether you want to stroll or speed and end with post ride beers.
Braindead Brewing
2625 Main Street
This place makes lots of beers. There are 35 on the menu, to be exact. From hazy pale ales and IPAs to Pilsners and Lagers, Braindead has many drinks to try. They also have a full kitchen with with vegan queso, fried chicken, mac and trees (broccolini), sandwiches and sweets.
There's lots of space to sit and play board games. Braindead Brewing also has a screen showing movies and TV shows. Events are constantly taking place here. There are board game nights, free shows, small batch Thursdays, and more you can keep track of on the Facebook page.
Trinity Cider
2656 Main Street, Suite 120
This cider spot opened in Deep Ellum last year. Trinity Cider serves great cider, as well as hosting fun TV trivia events. Cider flavors include the classic Deep Ellum Dry, The Playboy (a Hefeweizen cider), Pampered Moose with hops and grapefruit, and Cucumber Habanero. There is also a ghost pepper infused cider to try if you dare.
Eight weeks of Harry Potter trivia recently wrapped up and Game of Thrones triviais currently on the docket.
Hours are Wednesdays and Thursdays from 5 pm to 10 pm, Fridays from 2 pm to 1 am, Saturdays from 11 am to 1 pm, and Sundays from 11 am to 9 pm. Trinity is closed on Mondays and Tuesdays to make the cider.
Lakewood Brewing Company
2302 Executive Drive, Garland
This Garland brewery was founded in 2011. Founder Wim Bens was born in Belgium and developed a great appreciation for the Belgian-style beer. He attended the American Brewer's Guild to learn more about brewing the perfect blend. A couple years later, Lakewood Brewing was born.
The brewery has free tours for all ages on Saturdays. Kids under 18 must be accompanied by an adult. There's also a taproom and dog-friendly beer garden for hanging out. Popular year-round beers include The Temptress, Lakewood IPA and Lakewood Lager. Little Red Pie Shack Pizza is currently being served on Tuesday through Sunday for lunch.
Peticolas Brewing Company
1301 Pace Street
Michael Peticolas first learned the craft of brewing from his mom who started brewing Mexican styled beer at her El Paso home in the 90s. After a decade of practicing law, he decided to turn his passion to craft beer. Peticolas Brewing opened in 2011 and his Imperial Red Ale, Velvet Hammer has become one of the most popular beers in Dallas.
The taproom offers 33 beers, such as First Love, a limited-release wheat beer; Sit Down or I'll Sit You Down, an Imperial IPA; and Royal Scandal, an English pale ale.
Tours take place on the first or third Saturday of the month from 1 pm to 3 pm. A $10 ticket includes the tour, a branded glass and three beer tokens.
Bishop Cider Company
509 N. Bishop Avenue
Bishop Cider Company got started after founders Joel and Laura Malone couldn't find a good commercially available cider in Texas. So they decided to make their own at home. The original location, now the Tasting Room, opened in Bishop Arts in 2014. In 2015, they expanded production and distribution to the Design District, which is also home to Cidercade.
Flavors include the famous Crackberry, The O.G., Blood Orange and Apple Pineapple. They also recently came out with The Dark Cide, which is a delicious black currant cider.
Texas Ale Project
1001 N. Riverfront Boulevard
Opened in 2014, this Design District brewery is veteran and family-owned. It was the first brewery and tap room to be built from the ground up in the City of Dallas since the late 1800s.
Texas Ale is known for the Fire Ant Funeral amber ale and 50 Ft Jackrabbit IPA. It also has an R&D series with a brand-new rose amour, a crisp ale brewed with raspberry and dragonfruit.
You can visit the T.A.P. Room on Thursdays and Fridays from 4 pm to 9 pm, Saturdays from 12 pm to 9 pm, and Sundays from 12 pm to 6 pm. Free brewery tours are every Saturdays at 2 pm. Texas Ale also has a dog-friendly outdoor area.
White Rock Alehouse & Brewery
7331 Gaston Avenue, Suite 100
Located near White Rock Lake, this brewery comes from two East Dallas locals with a mutual love of craft beer. They have  12 of their own beers on tap including Belgian bruts and Blonde ales to Mexican-style lagers and milk stouts. You can also take beer home in a growler, crowler or keg.
The alehouse has food, such as tater kegs, chicken sliders, fish & chips, flatbreads and more. You also don't have to drink beer. Cocktails are available like the Oh Yay Froze, frozen whisky and coke, and jalapeno margarita.